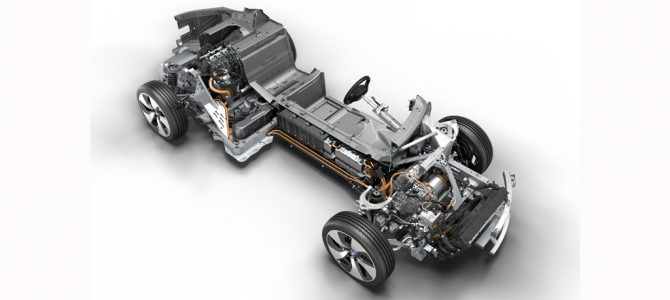 At a driving event at the BMW Group's Miramas test track in France, the company presented a prototype of its second production vehicle, the BMW i8. According to the company, "this plug-in hybrid model is the most progressive sports car of our time."
Pairing a lightweight, aerodynamically optimized body with BMW's  eDrive technology, a compact, turbocharged 1.5-liter BMW TwinPower Turbo gasoline engine and intelligent energy management, the BMW i8 achieves "an unprecedented balance between performance and fuel efficiency." BMW says. Thanks to its carbon-fiber-reinforced plastic (CFRP) passenger cell, the BMW i8 weighs only 3,285 lbs (1,490kg). The i8 can operate solely on electric power, and can do zero to 60 mph in under 4.5 seconds.
A compact three-cylinder gasoline engine is combined with an electric drive system and a lithium-ion battery which can be recharged at a standard household power socket. The 231 hp (170 kW) gasoline engine sends its power to the rear wheels, while the 131 hp (96 kW) electric motor powers the front wheels. This configuration offers all-electric driving capability with a range of up to approx. 22 miles (35 kilometers) at a top speed of approximately 75 mph (120 km/h). With both drive systems engaged, the car can reach a top speed of 155 mph (250 km/h). Calculated using the EU (and definitely non-EPA) test cycle for plug-in hybrid vehicles, the average fuel efficiency of the BMW i8 at model launch will be less than 2.5 liters/100 km, which equates to approximately 95 miles per US gallon.
The BMW i8 will make its world debut at the Frankfurt Motor Show and is slated to arrive in BMW showrooms in 2014.