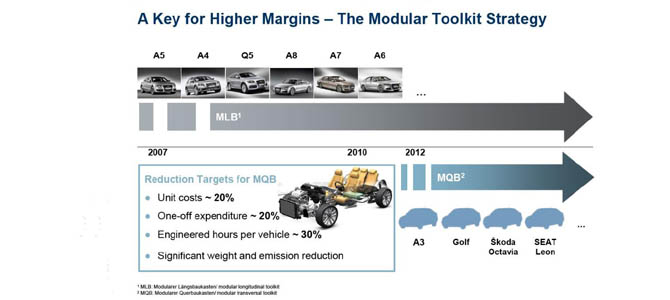 The European auto scene is abuzz, what am I saying, it is ablaze with the news that Volkswagen might miss its profit targets set for 2015. If that happens, the 8 percent EBIT, targeted as part of the Strategie 2018, also will remain a dream, Volkswagen's CFO Hans Dieter Poetsch warned. This according to a report of the usually well informed Manager Magazin. VW has been raking it in in the past years, while most of its EU peers went hungry. Parts of VW's pornographic profits were fueled by realized gains from stocks and options amassed during the Porsche-takeover, but a good deal of the money was made the old fashioned way, with cars.
The car part was sold as success of the new kit strategy. When I was in Wolfsburg a few months ago, it was pointed out to me that Audi took the lead implementing the kit technology, and "it is no happenstance that Audi delivers about half of the Group's profits," as Volkswagen spokesman Christian Buhlmann told me after the 78th PowerPoint chart. Now suddenly, the miraculous kits are fingered for causing VW's sudden money problems. "Responsible for the profit problems are the high startup costs of MQB," writes Manager Magazin.
Executives of Europe's other carmakers, who took to wearing galoshes due to wading in rivers of red ink and blood, are wearing broad grins of Schadenfreude. Bernstein Research, the analysts who had been very skeptical of the miracles of MQB, wrote a big "we told you so" note, saying that "VW may have a cost problem on MQB." Even Deutsche Bank, usually very sympathetic to Volkswagen's cause, notes that VW "currently faces several cost budget overruns."
While discussions of the costs of making cars usually center on salaries and parts, the most expensive part is the factory. I learned in the industry that 60 percent of the cost of a car is in the plant, 20 percent is in parts, and 20 percent labor. This little known rule points at the Achilles heel of MQB. MQB requires a completely and expensively re-engineered plant, a process that can take as long as a year, and a lot of money. Multiply this by 26 plants in Volkswagen's worldwide empire, and no wonder there are high startup costs that will remain high until all plants have been MQBenized.
A few weeks after Wolfsburg, I walked through Nissan's plant in Chennai, India. Here, Nissan is starting its own modular project, called CMF. The plant looked like plants usually look, and nothing special, a point cheerily conceded by Nissan executives. "The CMF concept does not require additional changes in the production process," Tsuyoshi Yamaguchi, Alliance Director responsible for engineering, told me in Yokohama. Whereas Volkswagen engineered a moon shot with NASA-sized budgets, Nissan's "frugal engineering" gets by with a minimum of fuss and money.
Of course, missing a bold profit targets isn't losing money. However, Europe's auto managers are delighted to see smug VW sink a little after having walked on water for so long.