This bicycle is the only thing that is left of the Lexus LFA glorious supercar past. On display at the Tokyo Motor show, the bicycle has been built using the rare and expensive machinery formerly used to make the all carbon-fiber body of the Lexus LFA.
The frame came out of the circular loom that formerly braided the seamless 12-layer A-pillar/roof support of the LFA. Only two copies exist of the three-dimensional braider, as the machine is official called. Having been put out to pasture, the machine is relegated to making bicycles.
The LFA Works, and with it the expensively accumulated carbon-fiber know-how at Toyota, has become a victim of the love affair between Toyota and BMW. BMW came with the CFRP expertise of SGL Carbon as a dowry, and Toyota divorced itself from the cash-intensive in-house carbon fiber project. SGL is controlled by BMW and members of the Quandt family.
Toyota and BMW are developing a sports car together, but again, the LFA team around chief engineer Haruhiko Tanahashi lost out. The Toyota side of the communal sports car is headed by hachi-roku chief engineer Tetsuya Tada.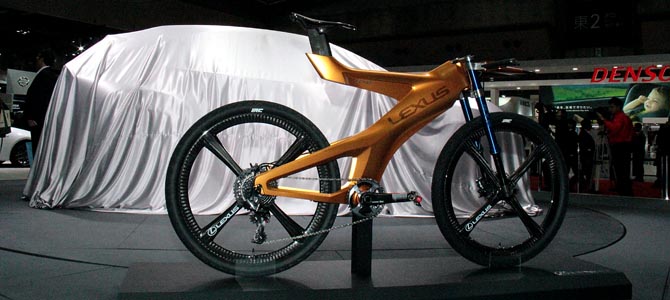 Frame and wheels of the Lexus NXB (as in "Neo Xtreme Bike"  are made from CFRP. It has a KYB inverted suspension, tubeless  IRC tires with a spindle grill tread pattern, and an SRAM XX1 mountain bike powertrain.