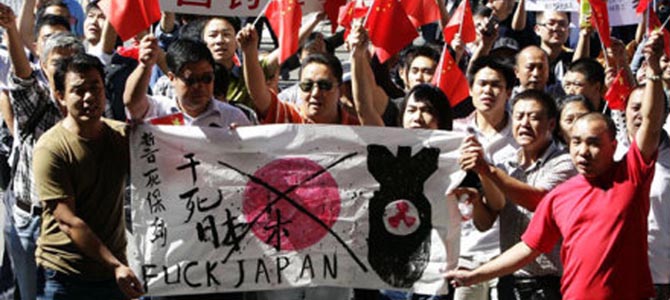 Skimming today's car news, you will read about an amazing turn-around of the fortunes of Japanese carmakers in China. Which could lead you to the misguided notion that Japanese carmakers are raking it in in the Middle Kingdom. Don't fall for it.
Nissan's October sales were up 127.8 percent in China, Reuters says. Those of Toyota rose 80.6 percent, Reuters wrote on Friday. Honda's October sales in China even skyrocketed 211.6 percent from a year earlier, Chinadaily wrote. While all of the percentages are true, they convey a false image.
Following China-wide riots where first Japanese cars, then Japanese car dealerships were torched, sales of Japanese-branded cars were cut in half in October 2012.  As far as China goes, this October compares with the absolute low point of Japanese car sales in recent history.  Ever since, sales clawed back, but more slowly than Japanese carmakers had hoped. A year after the riots, China sales by Japanese OEMs are approaching pre-crisis levels, but they are not out of the woods yet.
Nissan's recovery in China has been "quicker than that of our Japanese competitors," said Nissan CEO Carlos Ghosn on Friday. However, Nissan's market share, which says more than exaggerated growth  numbers, is still "down compared to where we were before the island dispute," Ghosn said. Ghosn hopes to be "back to the market share we had before the island dispute" by the end of this fiscal year. Which ends March 31 2014.  Toyota's China sales for the first 10 months of the year are up 4.2 percent. With the total market up more than 10 percent in the same period, this translates into lost market share. Only Honda, up 15.8 percent in the first 10 months, could enlarge its market share slightly.
The fallout of the island dispute accelerated a creeping erosion of Japanese fortunes in China. In 2011 the market share of Japanese branded cars reached 19.4 percent in China, the biggest among foreign car brands. This spot was lost to German brands long before the riots erupted.
Ghosn said his company his company is "gaining back market share little by little" in China. However, the situation around the islands is more volatile than it was a year ago. Chinese ships and planes play cat and mouse with Japanese. "Japan and the U.S. have drawn up plans to jointly recapture the Senkakus should China occupy the disputed islands in the East China Sea," The Nikkei reported last week.    
If needed, a new round of "spontaneous" riots in China's streets could hurt the Japanese industry much more than an invasion of a few uninhabited rocks. In terms of lost sales, the island dispute impacted the Japanese auto industry more than the 2011 Tsunami and the Thai floods combined.