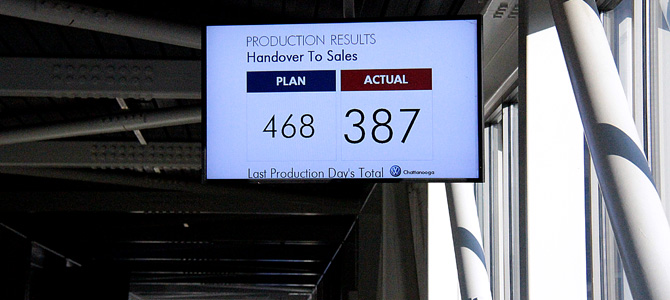 There are signs from Germany that Volkswagen management is not so gung-ho to bring the UAW to its U.S. plant as many, and foremost the UAW, believe. Yesterday, "the incoming leader of an influential German union warned Volkswagen AG about trying to avoid unions in Tennessee, where the German automaker has an assembly plant," Reuters wrote. Why would this indicate a division in Volkswagen's upper management?
The only senior executives of Volkswagen that had consistently spoken for the establishment of a works council (and not necessarily a union) in VW's Chattanooga plant were Volkswagen's HR Chief Horst Neumann and Bernd Osterloh, head of Volkswagen's global works council, and deputy chairman of Volkswagen's supervisory board. Neumann is a quota manager, and Osterloh is a quota board member. Both are members of Germany's metal worker union IG Metall, and they have their posts, because the German co-determination law wants it that way.  Both speak for the union, and so far, it has only been clear that Germany's metal worker union wants the UAW in Chattanooga. What Volkswagen's board of management really wants, remained an enigma.
The German metal worker union does not want a U.S. works council out of pure brotherly solidarity. German unions don't want German jobs to migrate to a freer-wheeling U.S., and a union in Chattanooga is seen as a hindrance of growth. German unions find themselves in perverse agreement with U.S. conservative Senator Bob Corker, who said that the Southeast would become less attractive to foreign automakers if the UAW gains a foothold, and that Volkswagen would become a "laughingstock" if it goes through with a deal to have the United Auto Workers represent workers at its Chattanooga plant.
German unions are increasingly worried about U.S. competition. "Because Europe has a stagnant population and is mired in a prolonged economic slump, the region is unlikely to see much growth in auto sales at all for years," wrote the Wall Street Journal.  "That has forced auto makers there to close factories or idle production lines. The U.S., in contrast, has a growing population, has rebounded from its financial crisis and is enjoying robust new-car sales." Daimler's Mercedes plant in Vance, Alabama, and BMW's  plant in Greenville, SC, export most of their production. If you buy a Mercedes C-Class car in Germany, it is Made in America. Free trade negotiations between the U.S. and the EU promise even more attractive U.S. production. Germans, writes the Journal, "see the nonunion plants as a threat to German jobs" and are pushing for them to organize. In blunt German Realpolitik, unions see a union as an impediment to job growth and efficiency – it takes a union to know one.
Apart from Osterloh and Neumann, leading Volkswagen executives maintain careful cover when it comes to the union question. They haven't been heard saying anything of substance either for or against a works council, or the UAW in Chattanooga. Other than complaining about the "Scheiß Betriebsrat" (damned works council) after the 5th drink in reliable company, one knows to keep one's opinions to oneself. Voicing anti-union sentiments in German executive suites, or, Ach mein Lieber, to the press, would have the same effect as propagating rape of mom and apple pie in America. However, the lack of pro-union comments by the non-quota management provides a window into its true feelings.
The vociferous protests of Southern lawmakers have reached Germany, and they resonate. German newspapers and magazines dispatch reporters to Tennessee to take the racing pulse of senators and Chamber of Commerce heads. Even Magazin Mitbestimmung (Co-determination Magazine), published  by the union's own Hans Böckler Stiftung,  reported of a "shitstorm over Chattaooga", citing Hamilton County Commissioner Tim Boyd who said allowing the UAW into the Chattanooga Volkswagen plant would be "like a cancer on economic growth in Hamilton County." German papers started reporting of "a debate" , or "quarrel" about the UAW in Chattanooga. As much as Volkswagen's managers hate to annoy the unions, they also do not want to get on the bad side of Southern politicos.
Ever since Horst Neumann told Reuters last March that he is all in favor of the UAW, there had been whispers in Volkswagen circles about a rift in the board about the issue. However, it wasn't clear whether the whisperers knew it for a fact, or simply wished it were true.
On Wednesday, the incoming leader of Germany's IG Metall told Reuters:
"Low wages and union-free areas: That's not a business model that the IG Metall would support. If companies – from VW to ThyssenKrupp – entered these (southern U.S.) states in order to be free of unions, meaning to not acknowledge a fundamental pillar of any democracy, then we're in North Korea. That cannot be accepted."   
Nobody at Volkswagen had been heard poo-pooing the idea in public, or saying anything else that would warrant such a colorful outburst. When Reuters called, VW declined comment. It stands to reason that the new leader of the metal worker union had been briefed by Osterloh and Neumann that the union drive, Chattanooga via Germany, ran into obstacles.
It is to be expected that management will drag out the matter as long as it can, and that eventually, the matter will be put to the Chattanooga workers for a vote. Despite claiming that is has signed cards by a majority of the workers, the UAW signaled that it might lose a secret ballot. When that happens, Wolfsburg management can maintain protective cover and claim that democracy has spoken.