I have lived in China off&on since 2004. I haven't quite seen it all, but I have seen a lot. This time, I saw a lot of Chinese TV, and for the first time, I was scared. I ended my recent three weeks in China seriously worried. Most of all about the exposure of the auto industry to a huge, but increasingly volatile market where the population is being prepped for war.
Turn on the TV in China, and you think the war has already started. Armed columns march across your flat screen, bayonet poised. Residuals on marching music must go through the roof – assuming they get paid in China.  According to Zhu Dake, a professor at Shanghai's Tongji University, 70 percent of drama on Chinese television is about war with Japan. Flipping through the channels, I decided this number is conservative.
Anti-Japanese demonstrations have somewhat of a tradition in China. The 2005 and 2010 riots were mainly for foreign consumption, and did little to reduce the appetite of Chinese buyers for Japanese-branded cars. At the time, brands with Japanese badges held a market share of around 25 percent, outselling  the competition from Europe, Korea and the U.S.
The 2012 riots changed all that. They began as "spontaneous" as the ones before. The first Japanese cars upended were owned by Chinese police or military, easily spotted by the trained observer for their white license plate. Then, the riots got out of hand. Spread by Weibo, the Chinese version of Twitter,  and Youku, the Chinese version of Youtube, the anti-Japan rage flooded the world's most connected country (2012 on-line population 564 million, 2012 mobile phone users 1.11 billion). When protesters veered from demanding that Japan get off the islands, and requested freedom of expression, safe food, more money, and a return of ousted leader Bo Xilai, the demonstrations were ended in a police crackdown, one day before September 18, China's day of infamy that marks the anniversary of the 1931 Japanese invasion of Manchuria.
This time, what was also different was the impact on the market place. Previous anti-Japanese outbursts had barely affected sales of Japanese cars in China, and what little was lost quickly bounced back. This time, it was a bloodbath.  In the month after the riots, Toyota, Honda, Nissan and their Japanese peers lost about half of their sales in China. Sales have since recovered, much slower than anticipated and are still below pre-crisis levels. Japan's automakers lost more sales in China than through tsunami and Thai floods combined. Japanese brands lost their cachet. In China, one still buys a car to impress  friends and neighbors. You don't want to apologize for your choice.
It's not so much that the "Chinese hate the Japanese" as the Internet trope goes. Japanese manga is hot in China, Japanese pornstars are even hotter, Chinese youth likes the shabby chic of Japan's Uniqlo. The more upmarket Y3 and Japan's hip-hop style label A Bathing Ape  are the labels to be seen in in China, and are ripped-off with abandon. The average Chinese prefers a peaceful, prosperous life over sitting in a trench just as much as his or her Japanese counterpart.  Chinese don't hate Japanese. The problem is that it is pounded into the Chinese that the Japanese hate them.
Flipping through the channels of Chinese television, there is a 24/7 torrent of anti-Japanese propaganda movies. The plot is always the same, but the movies are usually new: Hapless Chinese man has to watch how sister/fiancé gets raped by Japanese soldiers/secret police in black hats. Man finally gets act together, takes bloody revenge. Or lately, in the name of gender equality, women do the bloody revenging themselves. Fade to red. Sure, these movies have been standard TV fare in China for as long as I can remember. What is different again are their suddenly colossal number and hammering frequency. Reuters had spotted this trend long before my recent visit. According to the wire, "more than 200 anti-Japanese films were made last year" in China. The report goes on:
"War stories make up about 70 percent of drama on Chinese television. The state administrator approved 69 anti-Japanese television series for production last year and about 100 films. State television reported in April that more than 30 series about the war were filming or in planning by the end of March."
Young Chinese swear that they "never watch that garbage," but throw enough dirt, and some will stick. And just in case they really don't watch, a computer game called "Glorious Mission Online," developed with support from the People's Liberation Army, allows young Chinese to blow Japanese soldiers off the occupied islands in real-time. There hardly is a Chinese news program without warmongering Japanese, followed by tanks, fighter planes, battleships and goose-stepping Chinese soldiers. The marching columns and the steady drumbeat over the airwaves make a real shooting war sound inevitable.
European diplomat friends I talked to in Beijing are getting increasingly concerned about an "accident happening" near the islands, where Japanese airliners are told by their government  to defy the Chinese air defense identification zone , and where a U.S. warship already nearly clipped a Chinese navy vessel. According to Reuters, in the war of the broad brushes, the Chinese government finds itself painted into a corner:
"Decades of officially sanctioned hatred for Japan in China means Beijing is now caught in a propaganda trap of its own making. It has little room to negotiate or step back now that forces from both sides are circling in a potentially deadly standoff. Nationalism in Japan also makes concessions difficult for Tokyo. But the stakes are potentially higher for China's ruling Communist Party under its new, strongly nationalistic leader Xi Jinping."
Why am I writing this for a website that is focused on the auto business? The world's automakers are increasingly dependent on a Chinese market,  that , if the Chinese propaganda is to be taken seriously, is about to blow up.  Volkswagen and GM, hot on the heels of industry leader Toyota, rely on growth in China, where both automakers have forecast sales climbing to 3 million this year.  Both carmakers fight a war for world supremacy (in unit sales terms at least) on Chinese soil. That makes for about a third of the global output of both automakers being dependent on a country that preps its people for war.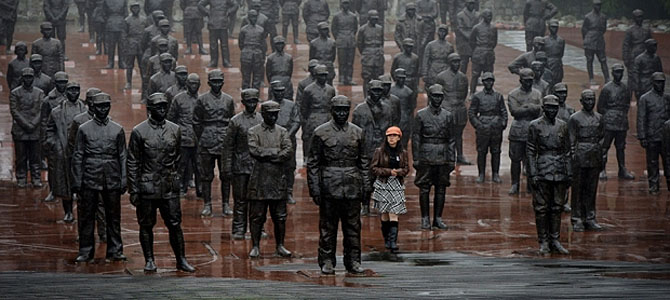 Western carmakers in China may harbor the false hope that war is good, because its first victims will be Japanese automakers.
Japanese carmakers have taken their lumps from the 2012 anti-Japanese riots. Sales have clawed back, but more slowly than Japanese carmakers had hoped. A year after the riots, China sales by Japanese OEMs are approaching pre-crisis levels, but they are not out of the woods yet.
Compared to Volkswagen and GM, the exposure of Japanese makers to the Chinese market is much lower.  About one tenth of Toyota's sales will be in China this year. Nissan , with about a quarter of its global sales in China has the highest exposure among its Japanese peers.  Honda has about a fifth of its volume at risk in China. While avoiding public statements on the matter, the enthusiasm of Japanese OEMs for the Chinese market has cooled, and they focus more on Southeast Asia. Only Nissan's Ghosn  is hopped up about China, saying at the Tokyo Motor Show that "we might get into capacity problems if the Chinese market works out alright."  Even he hedges his bets by forging a joint venture between ideologically untainted Renault and Nissan's JV partner Dongfeng : If you don't want my Nissan Teana,  take my Renault Laguna.
Again, this sounds like good news for European and U.S. OEMs. The news won't be so good if someone makes the wrong turn around the islands, and bullets start to fly, with boycotts in their wake. Then, having one third of your global volume and most of your profits in a warzone will certainly kill GM, and will turn VW into an endangered species, genus European carmaker. It's a big gamble for both Volkswagen and GM, but frankly, they don't have a choice.