Tokyo's annual Auto Salon opened its doors to throngs of car-kichi auto-otaku (or what we would call enthusiasts.) Supposedly, the youth is losing its enthusiasm for cars, but the opposite is evident in Tokyo.  Swarms of people braved the cold weather and came halfway to Chiba to look at cars. And to look at girls, something that also is said to lose appeal. Wrong again.
American carmakers are boycotting the Auto Salon, just like they boycott the Tokyo Motor Show. But wait, isn't there a Chevy booth sporting a little yellow Corvette?  It's a bit low rent, but a booth nonetheless.
As it turns out, the Chevy booth is a display by one of the many purveyors of alloys. The rim guys usually have a keen sense for marketing. If they use a Corvette to draw crowds, why can't GM?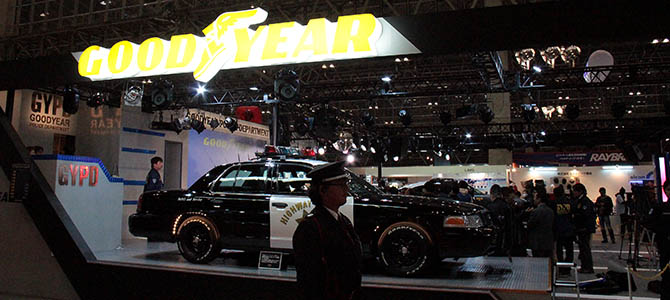 Goodyear thinks the Japanese market is just divvy, and they are here every year. They even brought a black & white this year (to demonstrate they are from a police state?) Last year's Grease-theme went over better.
Cops? Akita! We've got those in Japan – on bicycles.
The next day, Goodyear served up girls in cop uniforms. Cosplay! We like that! The crowd swelled immediately.
The wheel wells don't look like standard issue.