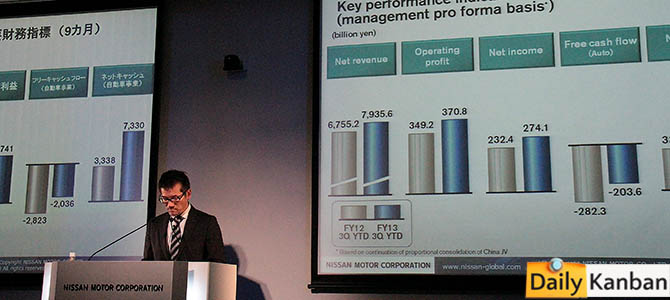 Nissan was last of Japan's majors to announce quarterly results. It did so to a press corps that was jaded from outsized profit announcements by Honda and Toyota, and that regaled itself with snow shoveling stories. The VERY BIG STORY was that Japan's capital had an unexpected and unusual foot of the white stuff on Sunday, so what if a car company is a bit more in the black than usual.
Three months ago, Nissan's numbers were not as hot as expected. Carlos Ghosn himself jetted in, a few heads rolled. This time around, Nissan did beat the (lowered) analyst estimates, announced  its steepest quarterly net profit gain in nearly two years, and the reporters were bored. When "last question" was announced, nobody had one.
Nissan printed an October-December net profit of 84.3 billion yen ($824 million,) up 56.8 percent from the same period a year earlier. Its numbers were helped by rebounding sales in its biggest market China, where it sold 1.27 million units in 2013 after sales had crashed late 2012 during anti-Japanese riots in China.
Like all its Japanese peers, Nissan received help from a weakening yen. The Japanese currency lost 9 percent against the U.S. dollar in the past nine months of the current fiscal. The currency buoyed Nissan's operating profit by 223 billion yen in the same period, money that was mostly plowed into higher selling expenses to the tune of 182 billion yen.
In the nine months of the current fiscal, Nissan sold 3.67 million units worldwide, it plans to sell 5.2 million by the time the fiscal is over.
In Japan, the current quarter is expected to be the last hurrah for car sales for a while. They are expected to collapse once the sales tax is lifted by three points in April. If we are looking for financial drama, we have to wait six months.