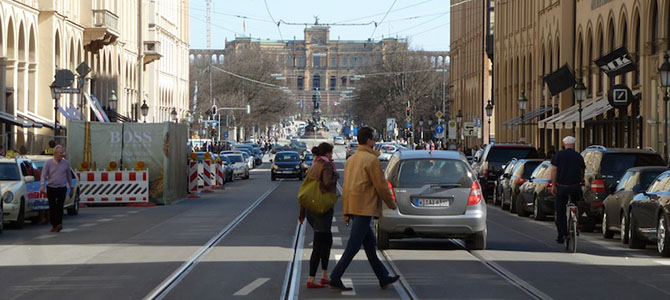 New car registrations in the EU were up 10.6 percent to 1,449,148 units in March. The first quarter of 2014 prints an 8.4 percent rise to 3,246,719 units, according to data provided by the European manufacturer association ACEA. After sales had deteriorated for a decade, results during Europe's most important selling season provide a badly needed reprieve, but we are very far from the all clear.
"In absolute figures, the total of 1,449,148 units registered marked the second lowest result to date for a month of March since ACEA began the series in 2003 with the enlarged EU," the association cautions. All EU volume markets are up, with the very resilient UK reporting a 17.7 percent gain, and Spain (+10.0 percent) getting back into the market after digesting the austerity shock. France (+8.5 percent), Germany (+5.4 percent) and Italy (+5.0 percent) also saw their demand for passenger cars increase.
Among the manufacturers, market dominator Volkswagen Group was up 8.6 percent in March, shedding 0.4 points of its overbearing market share. Vo;lswagen brand sales are up only 5.2 percent in March. For the quarter, VW Group maintained its 24.2 percent share.
Renault Group, up a whopping 30.4 percent in March and up 19.6 percent for the quarter, continues to amaze. The main contributor to Renault's success is its budget Dacia brand, up 53.5 percent in March and 42.7 percent for the quarter.
We reiterate our repeated recommendation to monitor the EU budget brands very closely. Both Dacia and Volkswagen's Skoda (+20.1 percent) have shed their "cheap" image and turn into the smart shopper's choice.
With money being tight and demographic changes taking their inevitable toll, premium brands will have an increasingly hard time finding willing buyers in the EU, a trend that is underscored by BMW (+5.7 [percent) and Daimler (+5.6 percent) underperforming the market and shedding share.
American makers had a mixed fortune in Europe. Ford, up 14.6 percent in March, looks healthy. The GM Group, underperforming the market at +7.2 percent keeps losing market share. While the Opel brand was up 15.3 percent in March, GM's already anemic Chevrolet business collapsed. After the announcement of Chevy withdrawing from the EU, sales were down 53.7 percent in March. Complete data are here.