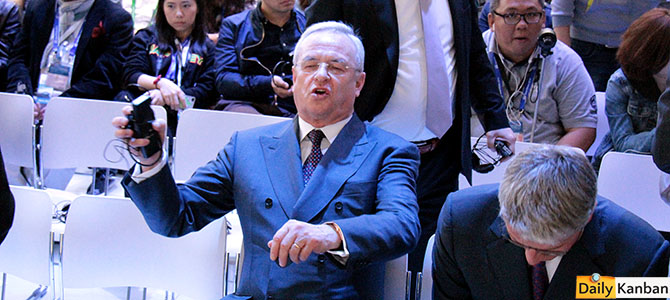 Tracing the current trajectories of major automakers, it looks as if Toyota may lose its leading position to Volkswagen this year. If it happens, it will have been very much intentional – on Toyota's part. For more than a year, world's largest automaker Toyota has been hogging the slow lane, inviting tailgating #2 Volkswagen to pass – and possibly, to crash into oncoming traffic.

Toyota released its global production data for April, and year-to-date . For the first four months of the year, Toyota was up 3.5 percent. Volkswagen was up a much steeper 6.6 percent for the period. In April, TMC booked a slight loss of 0.2 percent. None of this comes as a surprise. The Japanese market, which Toyota dominates, was in hyper speed for the first three months while Japanese rushed to buy big-ticket items before the sales tax went up in April. Also as expected, the market tanked when the new taxes arrived. The Japanese car market could end the year in double-digit minus territory, and Toyota will take the brunt.
As noted before, that Japanese downturn is expected to accelerate. May data, to be announced after the end of this week, will provide a clearer, but not necessarily better picture. More than a quarter of Toyota's sales are at home in Japan, and the company will not be able to escape the pull of the tailspinning market forces.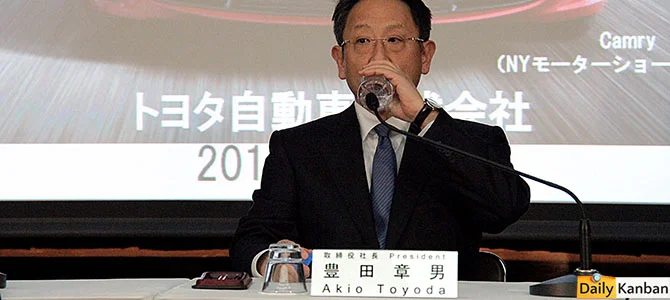 What's more less, more than a year ago, Toyota has started to budget for basically no growth in the next two or three years. The only thing Toyota is building is its balance sheet. While its global peers Volkswagen and GM race to build new factories, especially in China, Toyota reiterates at every earnings conference that no new factories will be built until 2016, forgetaboutit, no. They do it with conviction, and with an assured "you wait" smile.
On Tuesday, Toyota's Executive Vice President Nobuyori Kodaira briefed a small group of reporters at the company's Tokyo headquarter. Kodaira did not say much, but when it came to expansion, he made sure that everybody in the room knew that, read my lips, there will be no new factories before 2016. When asked about rumors that his people in Mexico might have a different idea, he intimated that they would get their opinion changed by the HQ, should they dare to voice it.
What little expansion Toyota is budgeting must be achieved by raising productivity of existing plants. Which sounds like a good idea until you hear that Toyota is running at a miraculous 95 percent capacity utilization on a global level. Which means that most of its factories are on overdrive already.
Toyota either is readying some miracle technology that allows the company to dramatically rev-up the takt time of their existing facilities, or they are planning for a serious downturn of world car markets. Judging by how often they repeat that they don't want to be caught in another Lehman shock, it appears to be the latter. If they are right, then the new factories its peers are building will turn into a huge trap.
World's Largest Automakers
Four month 2014 Deliveries
Jan-Apr 2014
Jan-Apr 2013
YoY
Toyota

*

3,466,393
3,349,614
3.5%
Volkswagen

***

3,250,000
3,050,000
6.6%
GM

** (est.)

3,221,333
3,146,667
2.4%
Source: Company data.
 *=production  **=deliveries ***=deliveries w/o MAN and Scania
It is the end of May, and the Daily Kanban is resuming its annual tracking of who will be the world's largest automaker when the year is over. As far as previous predictions go, my batting record is pretty good,  and I am not planning to strike out this year. My prediction is that it will be a very tight race, and that anyone of the three can come out on top – with a slight edge for Volkswagen. I know, it's lame, but the race is too tight to be called with conviction.
Year-to-date, Toyota has a 216K unit lead over Volkswagen, but that could soon expire while Toyota's home market continues to drag on deliveries. Also, Volkswagen's numbers are without its heavy equipment makers Scania and MAN. Taken together, they are good to add another quarter million to the tally when the year is over. If Volkswagen maintains its current trajectory, VW will slightly exceed the 10.25 million units Toyota is planning for the current fiscal. Add another 250K SCANIA and MAN buses, and VW will be way ahead of Toyota's plan.
And what about GM? Compared to VW, GM's growth did not look all too robust in the first quarter. We don't have new global numbers for April, due to the company's grating refusal to publish monthly figures like its peers do. The four-month number in the box had to be extrapolated.