Dares to question the viability of the battery-powered vehicular motion, and makers of electric vehicles will raise their hands and point fingers at the haphazard charging infrastructure. A last year's Tokyo Motor Show, Nissan's Carlos Ghosn said that there is no range anxiety. There is an anxiety that there is no place to charge when the range is exhausted, he said. Instead of waiting for the chicken to come out of the egg, Japanese automakers are getting together to do something about it.
Today, I received press releases from four major Japanese automakers, and they all said the same: "Toyota Motor Corporation, Nissan Motor Co., Ltd., Honda Motor Co., Ltd., and Mitsubishi Motors Corporation jointly established a new company, Nippon Charge Service, LLC, on May 26 to promote the installation of chargers for electric-powered vehicles (PHVs, PHEVs, EVs)." That Japan's heavyweights are joining forces to build the grid together is the biggest news. Forget what you heard about "Japan Inc." Japanese automakers are fiercely competitive. Usually, they don't see eye to eye. Definitely not when it comes to EVs, where Toyota and Nissan are at opposite ends. However, they seem to agree that it is too big a challenge for any one of them alone.
Nippon Charge service starts with an interesting proposition to places where people park cars, such as convenience stores, banks, hotels, etc. They get the charging station essentially for free. Nippon Charge Service will share the burden with the Japanese government. Charging stations can become a very interesting magnet for customer traffic. While the car hangs for half an hour on the quick charger, people spend their time buying coffee and donuts.
By the end of the year, the system should be up and running, along with a universally-accepted charging card.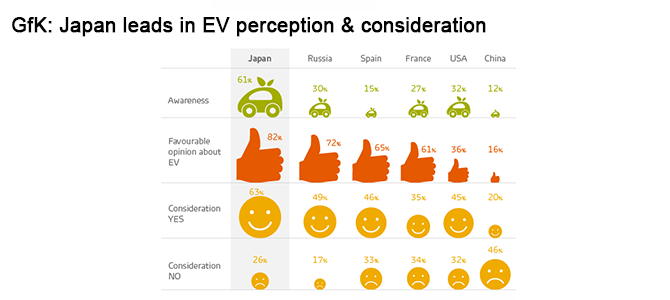 Japan is a good place to start breaking the grid-lock. In a recent study by GfK, Japanese customers were most willing to buy an electric vehicle, with, oddly, Russians following in place two. If you think that's strange, look at who's at the bottom of the scale.