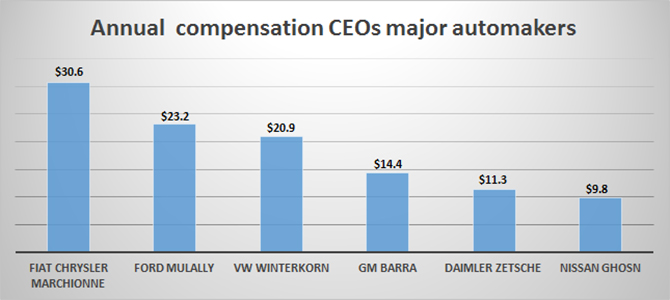 If there is one meeting all executives of Japan's many automakers are looking forward to, then it is Nissan's annual shareholders meeting. At this meeting, Nissan's top executive tells his shareholders what his colleagues at Toyota, Honda, Mazda et al don't dare to bring up: Japanese executives are grossly underpaid. Earning roughly $10 million a year in salary and bonuses, Ghosn may be the best paid top executive of a Japanese automaker. Compared to his peers in the West, Ghosn is in the poorhouse.
"It is unfair for Japanese executives to be paid less than foreign executives," thundered Nissan CEO Carlos Ghosn today at Nisdsan's annual shareholders meeting in Yokohama. A stockholder, after expressing his gratitude for  Ghosn's contribution to Nissan rescue from certain death, had the gumption to say that, nevertheless,  Ghosn's "salary is a little too high."
"Compared to the Japanese CEOs, it's too high, it's true, conceded Ghosn. "It is completely untrue when compared to the other CEOs."
Fiat Chrysler's Marchionne tops the list with over $30 million a year. Volkswagen's Winterkorn makes a quite deserved $20.9 million. GM's Barra and Daimler's Zetsche look impoverished, making only $14.4 and $11.3 million, respectively. Ghosn is in last place – at least on the list that was handed out today.
If you want to see CEO working at slave wages, then look to Nissan's competition. Toyota CEO Akio Toyoda received $2.25 million last year in salaries and bonuses. Honda's Takanobu Ito made $1.47 million. No need for pity, says Bloomberg. Toyoda made another $7.4 million in dividends.
To make up for the low pay, Ghosn has to work a second job. As CEO of Renault, he gets another $3.1 million.