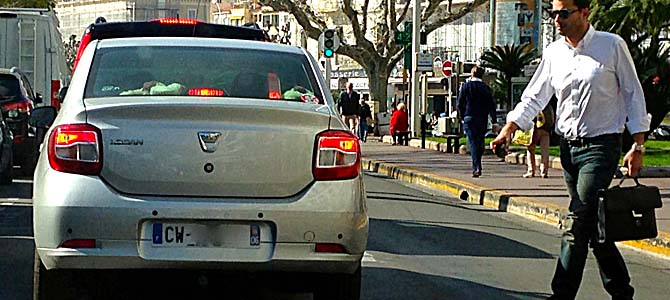 For a while, yours truly has been monitoring the impressive gains of Renault's affordable Dacia line in a still difficult (albeit slowly mending) European market. Now, Max Warburton of Bernstein Research sees Dacia as the centerpiece of a "French Renaissance" in Europe. "VW's relentless gains seem to have come to a halt," writes the analyst. "The French appear to have stopped losing share – Renault has been a big gainer this year and PSA is also showing some positive signs."
According to Bernstein, Volkswagen's relentless pursuit of market share appears to have bogged down. " VW has stopped moving – which rather like the proverbial shark, may be a problem," says Warburton. He notes a doubling of R&D spending, but not much product to show for it. He calls the new Golf a "great car and an engineering masterpiece," but notes that it might be plagued by "very high material costs and too much content." This might be corrected by the Golf Mk 8, which will appear 2 years early in 2017, but an eternity too late.
Warburton contrasts this with Renault's volume gains in Europe, that "have been pretty astounding in 2014, led mainly by Dacia but also by the Captur SUV at the Renault brand."
According to Warburton, "Dacia seems to know no limits, with its product, brand and positioning having universal appeal. Amazingly, no-one has yet launched a real competitor." Meanwhile in India, the Renault-Nissan Alliance is planning not a Renaissance, but a possible revolution in the auto business.
Gérard Detourbet is the man who converted Dacia from a not very impressive toy of a Rumanian dictator into a nightmare for other European automakers. Last year, Dacia was Europe's fastest growing car brand, it gained 23.3 percent in an overall down market. And the Dacias are making money, much to the chagrin of the followers of "big cars, big profits – small cars, no profit."
Now, Detourbet is in Chennai, India, putting the last touches on a really low cost car that will be sold under the reconstituted Datsun brand.
"The best way to reduce the cost of a car is to reduce the number of its parts," Detourbet told me a year go in India. "You get a car that costs less to engineer, it is easier to assemble, and it has less to go wrong." For that, Detourbet is on a daily hunt for the superfluous complexity. Where other air conditioners have a multitude of knobs and buttons, Detourbet's A/C only has one knob. Detourbet uses the same rear view mirror on the left and the right. "Engineers create a lot of things that are never used by the customer, they don't make cars for the customer, they make cars for themselves. The secret is to make what is expected, by the customer, and not more."
The frugal new Datsun is built using Renault/Nissan's CMF architecture. Its costs are currently under wraps, the guesses are around $5,000, or maybe €5,000 for something "that won't sit on a 25 year old platform that was amortized several times already," Nissan-Renault CEO Carlos Ghosn promised in Chennai. "It will be totally modern, totally new."
As for Volkswagen, it will be too late to that market also. After many years of hemming, hawing, and worrying about cannibalization, Volkswagen finally decided to build a low-cost car. According to the reports, the car will see the light for the 2017 model year, and it is supposed to cost not more than €7,500. Converted to dollars, that's $10,000. For that, no big engineering feat is required. All you need to do is go to a car dealer now.
Ostensibly targeted at emerging markets, low cost cars will be very much needed in Europe. A huge demographic shift is about to happen. Well to-do baby boomers are buying their last BMW, Audi, or Mercedes before retirement.  We are entering the age where car design follows the path blazed by M&M and Uniqlo. Already, lower cost cars by Dacia and Skoda have the highest growth rates in Europe.This requires a complete re-think of cars. Basic transportation at a price you don't have to sign the next seven years away for, cars that require little or no service, cars that are cheaper to replace than to repair. Simple, functional, made in huge volumes. Some day perhaps, cheap enough to be tossed for a new one if it ever breaks down.