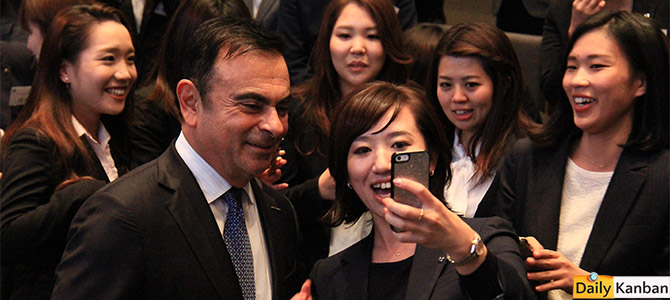 "Nissan counts more on female members than the rest of the industry," Nissan/Renault CEO Carlos Ghosn said today in front of 260 new female team members, assembled at Nissan's headquarters n Yokohama. They are the vanguard of a wave of women to become the faces of Nissan dealers across Japan.
Nissan's car-life advisers keep customer contact before and after sales. Currently, only 6 percent of them are female. Nissan wants to lift the ratio to 10 percent and higher within the next 5 years. Demand for them is high. Nissan's research shows that most women want to buy a car from a woman, "and half of the men want that too," said Ghosn. "By that statistic, most of our sales people should be female."
The auto industry, usually keen to exploit even the smallest niche, steadfastly ignored in the past that most of its customers are women. "Two out of three cars are either directly bought by females, or strongly influenced by them," Ghosn said today.
Automakers need to be aware of this simple fact long before the car reaches the dealer. Successful design and marketing of a car should reflect that "women are not interested in the same features of cars as men," as Ghosn said. "They are more interested in safety, functionality, quality, reliability, while males are much more interested in the performance of the car."
Women are not only misunderstood, they also are treated much worse at car dealers than their male counterparts, before the sale, and especially thereafter. "Lady, could I talk to your husband," still is frequently heard from service advisers. Car buying is so unpleasant that many women ask male friends to deal on their behalf.
Many companies still treat diversity as a buzzword, right next to sustainability. Ghosn doesn't mobilize women for feel-good reasons. "Empowering women is a business decision. It's not just a gadget, it is something everybody needs to do, because it makes a lot of sense."
Nissan is a diverse island in a male-dominated, monocultured sea. Run by multi-cultured French-Lebanese-Brazilian Ghosn, the Yokohama headquarters feels more like the United Nations than a Japanese carmaker. In 2004, the company established a diversity office, run by Chie Kobayashi. That was ten years before Japan's Prime Minister Shinzo Abe realized that empowering highly-educated but underemployed women can be good for the economy.