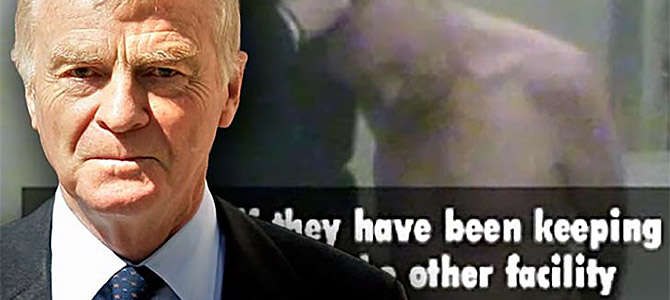 "Mr Mosley was, and is, a man obsessed," wrote London's Daily Mail. Currently, Max Mosley is obsessed with gaining control of key aspects of the fledgling auto industry of a former British colony, namely India. Called "formidable, tough, ambitious, and, at times, ruthless," Mosley will destroy anything that gets in his way. Currently, he wants to destroy a car. Not just one car, a complete line of cars.
Yesterday, Max Mosley wrote Carlos Ghosn a letter. What did Mosley want from Nissan's CEO? Nothing more than the "urgent withdrawal of the Datsun Go from the Indian and related markets." As the Chairman of Global NCAP, Mosley wants control over what kind of cars are sold in India. Mosley had the misfortune of having been born in 1940 as the son of notorious Sir Oswald Mosley, the most prominent Nazi apologist in Britain. Mosley furthermore had the misfortune of having been embroiled in a long series of scandals, (possibly) culminating in a notorious S&M sex orgy where he is "giving orders in German as he lashes girls wearing mock death camp uniforms and is himself whipped until he bleeds," as the Daily Mail reported. This is only mentioned to underscore Mosley's fascination with control. It is, as they say in the car business, a heritage matter. Control is part of Mosley's design DNA.
[Many videos follow. You may not want to open this page at work.]
Now why should Nissan shredder the first model of its re-activated Datsun brand? Five days before the letter-writing, Mosley's Global NCAP, a company registered in the UK as a limited company, and as a charity, published a not quite charitable crash test, in which the Datsun Go was found severely lacking by Germany's auto club ADAC, and where the car was "rated a zero for safety by Global NCAP," as a Global NCAP press release says.
So far the widely reported facts. Now, let's dig a little deeper. As often, the digging will be a dirty affair.
The affair begins with the minor quibble that there is no NCAP for India, and that punishing an Indian car for failing the regimen of Euro NCAP is as ludicrous as ticketing Dan Neill in America for going 200 mph on a German autobahn.
So then, why? I asked Global NCAP, and received no answers. Let's try and find them.
Earlier in the year, Mosley's Global NCAP had set its sights on India. As opposed to developed markets like the U.S. and Europe, the rather underdeveloped car market of India has no auto safety standards to speak of. "Formidable, tough, ambitious" Mosley wants to change this. There is a lot of money to be made setting, checking and enforcing standards. "Ruthless" Mosley knew just how to sell it to the Indians: "India's best-selling cars, including the Tata Nano, Suzuki-Maruti Alto 800, Ford Figo, Volkswagen Polo and Hyundai i10.," were crashed in front of cameras, and three of them, the Alto 800, the Nano, and the i10 failed miserably. The Ford Figo also failed, but GNCAP gave it a pass, saying it woukld have fared better, would it have airbags, which it didn't. The Volkswagen Polo also failed. Then, "VW sent in a [Polo]  Trendline," writes Top Gear, that was "equipped with airbags, and that car fared a whole lot better, being the only hatchback made in India to notch up a four-star Global NCAP rating." Bootlicking makes for mild masters. The crash videos were, so to speak, a smash hit  at Global NCAP's first Emerging Market Automobile Safety Conference in Delhi, and "the response from media and consumers in India has been overwhelmingly positive," as Global NCAP was happy to announce.

Why the huge production? India "could become the world's third largest [car] market by 2020," Global NCAP wrote in a press release, and Mosley wants a piece of it. The crashing of cars is a costly affair, and NCAP doesn't do it for free – unless it suits them for propaganda purposes. "Unlike most other major car producing nations, India … does not have a New Car Assessment Programme (NCAP)" wrote Mosley's pressure group. The crash tests were enclosed, hint, hint.
The public pillorying of gutless cars has been a favorite tactic of the devout S&M believer. "Mosley knew that the greatest weapon at his disposal was publicity, a fact he exploited ruthlessly," writes Motorsport Magazine. "Soon a poor NCAP result became a greater deterrent to sales than poor fuel consumption or performance figures." The message is simple: Pay up, or shut down. The punishment for a lack of submission to NCAP can be long and painful: Videos of crashes land in YouTube, and they stay there forever. Next to sex and cat videos, crash porn is a major click magnet for YouTube. So, usually, car companies decide that it is cheaper to pay protection money, and to join NCAP, with the privilege to submit a car of their choice per year for testing, than to be subjected to endless, and entirely non-consensual flogging.
After the India conference, something unheard-of happened. Nissan's vociferous former chief strategist Andy Palmer said out loud what other car execs only dare to mutter. Nissan's cars were not among the tested, so Palmer probably thought it was safe to speak his mind – as he usually and refreshingly does.
"I think the people who criticize these cars for not meeting US or European crash standards are living in a dream world," Palmer told Autocar. Each year, hundreds of thousands of people – the exact number is unknown – die in India in traffic accidents. Speed limits, DUI or seat-belt laws in India are generally flaunted, and rarely enforced. Percentage of road deaths involving alcohol – unknown. Deaths in cars amount to only a fraction of the carnage – simply because there aren't so many cars yet in India. A surprisingly large number of people die in conveyances considered highly safe – in trucks, an even higher number perishes in the "other" category. The by far highest number dies away from four wheels, on foot, bicycle, and motorcycle.
Without saying it, Palmer accused Mosley of hypocrisy. If he really cares for the dead and maimed, Mosley should be for putting people in cars instead keeping cars away from them. And for that, cars must be attainable, not filled with first world gadgets that put cars way out of reach of most people, in a country with a per capita GDP of $1,500. Said Palmer:
"We are talking about cars built to transport people who would otherwise be four or five-up on a motorcycle. These people today can't afford more, and if we fit safety systems we will drive the prices up and they'll choose the motorbike again. A car with a body and individual seats is much safer than a bike."
Palmer's outburst triggered a flurry of angry press releases from a clearly wounded Max Mosley. Many industry observers are convinced that the Datsun Go was crashed as revenge for Palmer's comments; never mind that Palmer has left Nissan to become CEO of Aston Martin, and never mind that the Datsun Go is everything but India's best-selling car. According to Bloomberg, the few people who have money to buy a car in India, want to show-off their wealth. And the masses don't have the $5,000 the Datsun Go goes for.
"Someone clearly got back at Palmer," said a chuckling European industry executive, who chose to remain unnamed, fearing the formidable long arm of ruthless Max. In Europe, industry greybeards see more than a quick get even, they see a well-known modus operandi.
Some 10 years ago, the industry was fearful of being overrun by cheap cars exported from China. It never happened, to a large degree because of what happened in Germany to the first cars from China. In 2005, a SUV imported by Landwind was crashed by Germany's auto club ADAC, perfectly timed for the Frankfurt Auto Show a few weeks later. Of course, the Landwind blew the test, and the Chinese SUV became the laughing stock of the Frankfurt show. A few years later, the Chinese Brilliance BS6, and then the Brilliance BS4 were tested according to NCAP rules, again by Germany's ADAC, again with horrible results. This time, a few media reports said the tests were rigged. Germany's Focus Magazine had "doubts about the procedure." Nevertheless, back then, the reputation of NCAP and ADAC was godlike. The Brilliance importer went bankrupt. China's invasion was dead in the water.
What's more, China, which before had a safety regimen like India, namely next to none, appeased the NCAP dragon, and created C-NCAP under the tutelage of the government-owned China Automotive Technology and Research Center (CATARC). Suddenly, all was peachy in China. C-NCAP keeps raining 5-star ratings on its happy industry. Max Mosley does not complain. However, there are loud complaints in China itself.
In the Middle Kingdom, C-NCAP is widely viewed as a paper tiger, some call it "a scam." In a poll conducted by China's huge internet portal sina.com.cn, only 6% of the respondents thought C-NCAP tests are fair. China's state-owned news agency Xinhua blasted C-NCAP as a "pure money machine." In reality, C-NCAP is a paper tiger, and nothing has changed in China as far as safety certifications are concerned. Even CATARC chief Hang Zhao has to admit: "China has not yet had a truly formal certification system. The existing rules can only be called 'access system', which only determines whether a particular car model is allowed to enter the market." China's traffic deaths are more than 100,000 per year, similar to India, but they die without Mosley's compassion.

Early this year, Global NCAP's favorite testing partner, Germany's ADAC was traumatized by a long series of scandals that did cost first a cheating PR chief, and finally ADAC's president and its General Manager their jobs. Research and books were manipulated. The auto club was put under the magnifying glass, and now Germany's TV station Bayerischer Rundfunk said that the Brilliance test results of 2009 were "preconceived."
At the same time, Germany's Frankfurter Allgemeine Zeitung reminded its readers of what it had said in 2005, namely that the ADAC "cheated" when in tested Renault's Dacia, run by the same Carlos Ghosn to whom Mosley just wrote a letter. The car rolled over in front of running cameras. The FAZ journalists found that before the car rolled over, "the tester had first ruined the tires, then they mounted the spare tire with a different rim, and finally, they raced the Dacia until it finally went airborne." The ADAC admitted the cheating. However, the matter failed to make waves in Germany, says the FAZ, "because nobody cared about a Rumanian maker of cheap cars, as long as the German auto industry was left in a good light." Back then, Ghosn thought about suing, but decided against it. He probably regrets it now.
The same "cheater-club ADAC" (FAZ) is still haunting Global NCAP, and it performed the disastrous test of the Datsun Go. There are many reputable technical services in Europe, ready and able to crash cars in a professional manner. Global NCAP had plenty opportunity to do what major automakers had done, namely distance themselves from the disgraced club. Knowing no shame, Max Mosley asked the ADAC to smash the unwitting Indian cars.
The Daily Kanban asked Global NCAP two days ago via email: "The ADAC has admitted falsifying research. Why do you continue using the ADAC for your tests?" Global NCAP never answered.
Global NCAP may be a charity, but they are not charitable enough to test cars for free. Usually. Usually, Global NCAP doesn't test cars at all. Usually, that is done by the real NCAPs, such as Euro NCAP in Europe, or ANCAP in Australia, or JNCAP in Japan, and they usually don't test cars from far away lands for free either. Usually, they assign NCAP stars according to a set protocol, and not after one single full frontal crash as in this case. Usually, they won't say that a car will "certainly fail to pass the United Nation's frontal impact regulation," unless they have tested the car according to the UN-ECE regulation 94 that requires a specific set of the crashes to be performed at a lower speed than that ordered by Mosley. This was a highly unusual test. The only thing that was usual was the usual propaganda.
So who paid for bringing the cars from India all the way to Germany, and who paid for the crash test? We asked Global NCAP two days ago.
No answer was received.
Many more questions remain open. Going through the notes which I made before writing this article, I see a long list of scandals about Max Mosley that could and should fill a book. His five hooker S&M orgy alone is good for a sordid spy novel. It reportedly was videotaped by one of the 5 dominatrixes, with a camera supplied by the now defunct News of the World, and for a fee of £12,000. The woman was married to an officer of Britain's intelligence arm MI5, writes the Independent.
Recounting Mosley's multitude of scandals becomes impossible, simply because one does not know where to start.
Daily Mail: "A wealthy associate of Formula 1 chief Bernie Ecclestone asked the Conservatives to help Max Mosley become an MP in return for a donation." Ecclestone? Let's not even go there.
FT: "Three years ago, when he was about to step down as the head of the FIA, the regulating body of Formula One, the News of the World ran its story under the headline "F1 boss has sick Nazi orgy with five hookers". Since then, Mosley has been waging his own world war." World war? Not again.
Independent: "Mr Mosley has considerable inherited wealth. He has been an unpaid chairman of the FIA since 1993, as well as funding a sexual habit that reputedly cost him £75,000 a year." That would be $120,000 – or a $1,000 hooker every three days, an old man deserves some rest.
With so many scandals – if you have a lot of time on your hands, google them, but be advised that Mosley repeatedly sued Google, demanding that the search engine removes links to Mosley's extravagant sexlife – one would think that Mosley is ashamed of himself, and that the now 72 year old quietly retires and enjoys the sun in Monaco, where he lives, and that he indulges in the senior-safe aspects of a $120,000 sexual habit. But no, he keeps on going. "Is there a risk that Mosley will cause himself more embarrassment?" a concerned BBC had to ask. Indeed, the embarrassment continues, possibly, because it gives Mosley pleasure.
In the strange world of BDSM, shame and embarrassment can be a turn-on to some people, just like pain can be an aphrodisiac to others. Or the same.
But then, "What's so wrong with hypocrisy?" Mosley said.