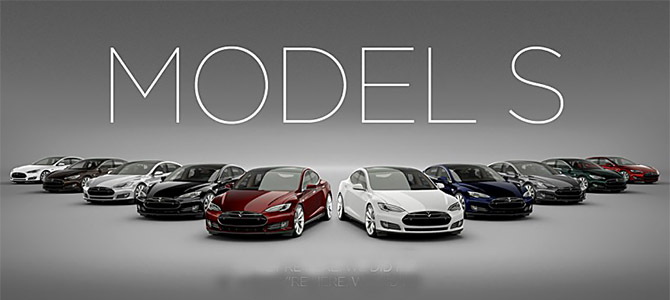 The Rule of Scarcity plays a large role in the persuasion process, as any pop psychologist can confirm. Nobody knows that better than master salesman Elon Musk. Waiting times for a Tesla are legend. If you believe the on-line chatter, the Model X is basically sold out for 2015. Is the scarcity for real? John Lovallo, a research analyst at Merrill Lynch, wanted to find out.
In the case of the Model X, Lovallo did not have to dig deep. The way it looks, there won't be a Model X in 2015. As far as the Model S is concerned, Lovallo was told by Tesla that "essentially, in the third quarter, we sold every car that was. Including cars in, like, showrooms, and everything we basically had." But then, Lovallo started going through the books, and he found that "Tesla's finished goods inventory at the end of 3Q appears to tell a different story."
According to Merrill's estimates, Tesla could have "approximately 3K vehicles stocked in inventory or in transit," the brokerage house writes in a research note distributed to clients. Merrill maintains an "underperform on Tesla." In the euphemistic world of research notes, this translates to "sell as long as there still are greater fools around."
Tesla's recent extremely attractive lease offers, along with the fabled 3-month happiness guarantee, gives further credence to the suspicion that buyers of electric Tesla cars are not as eager as they were said to be. Musk swore that the lease savings come out of the bank's profits, and not out of Tesla's hide. Tesla may be different from the rest of the auto industry, but in the rest of the auto industry, a happiness guarantee means that not everybody is happy, and that attractive leases are discounts in drag. If people are really lining up to buy, ask more money, not less. In the rest of the auto industry, mind you.
What also usually is not done in the rest of the auto industry is to raise prices on an aging model. Industry observers are hugely skeptical of the newly announced "streamlining" of Tesla pricing. The top price of a full-spec P85D is now $138,000 and change, while the "low priced" 60D was axed. In a further move of alleged streamlining, Tesla reduced the number of available colors from eight to six. At that point, even the most faithful acolytes lost faith. "So I'm wondering: how does eliminating a couple of colors speed up the production process?" David Noland of Green Car Reports asks. It does not. In the rest of the auto industry, at least. Noland also called the $138,000-plus for a fully decked-out P85D "totally insane." Speaking of anti-cyclical pricing, in Europe, where sales are not going so well. prices will "probably" go up, said Musk, in order to off-set a weaker Euro. Elsewhere in the industry, cars are priced to market, not to currency swings.
In the rest of the auto industry, a car that is reaching the autumn of its model cycle usually will be packed up with all the parts lying around in the warehouse, and sold off at bargain prices. Tesla is different.
All of it has the smell of sales not going as smoothly as they used to, and of Tesla finally getting some pressure to produce real returns on the exuberant investments. Also, analysts could be getting weary of the non-GAAP reporting. The bloom is off the peachy outlooks, so to speak.
Ah, what about China, you say? Been there a week ago. In smog-suffocated Beijing, new license plates are limited to 150,000 per year, only a tiny sliver of the city's pent-up new car demand that is estimated at more than 1.45 million. Plates are handed out to extremely lucky winners of a lottery. The accelerate sales of emission-free electric vehicles, a special category of plates with much better odds was created. Combined with lavish incentives, this was expected to provide a jolt to the sales of electric cars in China. There was an initial run on the lottery, but in the end, nearly 70 percent of the lucky winners of one of the really rare plates "had failed to buy electric vehicles by the time their rights expired on Oct 26, even after the deadline was extended by two months," wrote China Daily. Should the Chinese EV market ever get its act together, the rest of the auto industry, from Nissan's Venucia  e30 (= Chinese Leaf)  to  20 planned new energy vehicles by Chinese juggernaut Volkswagen, won't leave any money on the table.
No wonder that Merrill is seeing signs that "indicate that China is proving to be more challenging for Tesla to penetrate than expected. China difficulties, coupled with seemingly tepid European demand for the Model S, indicate meaningful international headwinds for the company." What little money Tesla is making comes from selling regulatory credits, not from selling cars, the research note says, and it continues: "Tesla has found it challenging to earn money on its vehicles, which could ultimately prove to be the biggest risk for the company and the pure electric vehicle market at large."
Challenges that have plagued the rest of the industry for more than a hundred years.