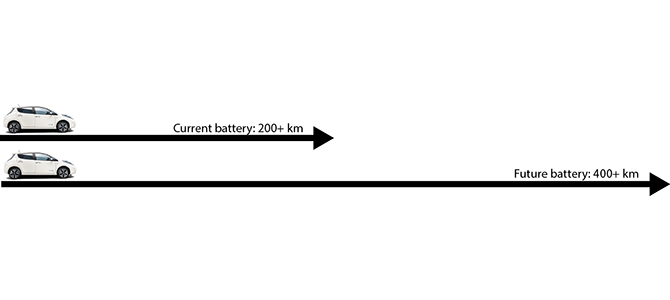 According to its CEO Carlos Ghosn, Nissan is putting the final touches on batteries that will double the range of its Leaf EV. A release of the technology, which would be a long sought breakthrough, is said to be only a few years away.
In a late night interview at Tokyo's Business News channel, a relentless host pressed Carlos Ghosn for answers about the future of Nissan's electric vehicle program. Is Nissan working on new batteries? Ghosn: "Yes." Can you tell us more? Ghosn: "No." Will the range double? Ghosn: "Yes." That means more than 400 km? Ghosn: "Yes."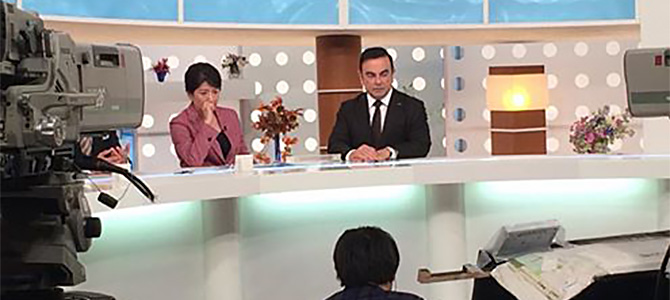 When the Daily Kanban asked about the interview, which is not available on-line, Nissan's chief spokesman Jeff Kuhlman did not contradict his boss, but he also did not offer technical details about the new battery technology. Kuhlman said that at Nissan, "we continue our R&D efforts because we believe that we can do more with battery electric, and very soon take the issue of range off of the table. In other words, cars with a comparable range to today's petrol vehicles."
Asked about fuel cell vehicles such as the ones that made a splash at the LA Auto Show, Kuhlman answered that "the only commercially-viable zero emission option today is battery electric, such as in the Nissan LEAF. We continue our research into fuel cell technology, and it may have a role in transportation one day, but the day that it will be commercially viable is many years away, in our opinion. "
Engineering sources in Japan confirm that battery research has seen intense attention at major OEMs, notably Nissan, but also at Toyota, which in public plays the BEV skeptic. "Commercial applications could be no more than one model cycle away," said an engineer who is not supposed to talk to me. According to the source, the new battery delivers twice the capacity while weighing – and costing – less than the current shorter range model. In a prototype, Nissan's Barcelona Technical Centre last year tested a 48 kWh battery, double the capacity of the Leaf's 24kWh battery.
The 400km (250 miles) range is for a Leaf-sized vehicle, possibly even the next generation Leaf. The Tesla Model S gets that kind of a range already, but it does this by being loaded with batteries. Taking Tesla's "price is no object" route, the current range of the Model S could easily be doubled or even tripled using Nissan's still under-wraps battery – if Nissan sells it to other OEMs.
With range off the table, and prices coming down, two of the main counter arguments against EVs are in check. OEMs, knowing what is coming, already shift the narrative to charging time. Note that Yoshikazu Tanaka, Deputy Chief Engineer of Toyota's fuel cell vehicle Mirai, also gave the impression that the range problem of BEVs is about to be solved, and that what remains on the to-do list is charging time.
Many OEMs claimed to be researching battery technology that brings ICE-like range at a package size and price point compatible with current compact mass market vehicles. However, they also keep saying that this technology is not even at the horizon. Listening to Nissan's CEO, who usually is not prone to making outlandish claims, Nissan appears to have the battery breakthrough out of the lab and ready for large scale production.