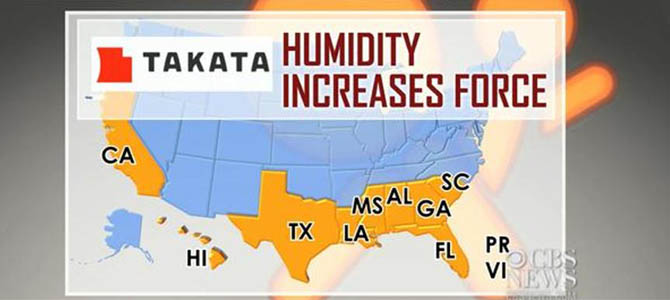 America's National Highway Traffic Safety Administration gave embattled airbag company Takata a Tuesday night ultimatum to do a full-scale nationwide recall. No, said Takata, we'll stick with our recall to humid regions. The company faces legal action and penalties from the NHTSA.
Also yesterday, Toyota "called for a coordinated industry-wide joint initiative to independently test Takata airbag inflators." Toyota's Simon Nagata thinks that "by combining our collective efforts behind a coordinated, comprehensive testing program, we believe we can achieve greater results."
Hours later, Honda, which took a heavy dose of the Takata fallout, endorsed "coordinated, industry-wide third-party testing" of Takata inflators.  Japan's big three rarely see eye-to-eye, but in times of crisis …  Chrysler and Ford likewise signaled they would join the co-op.
Did we say they rarely see rarely see eye-to-eye? The consortium of concerned carmakers will have to make do without Japan's second-largest automaker Nissan. When calling the Yokohama company, I was told:
"Toyota issued a statement today concerning the independent testing of Takata airbag inflators. Nissan Group has already begun the process of independent testing and welcomes Toyota's decision to do the same. Nissan will support collaboration among OEMs and welcomes NHTSA's input on coordination of such testing. Nissan's primary concern has always been and will continue to be the safety of the occupants of Nissan and Infiniti vehicles."
Looks like it won't be industry-wide. Nissan already has enlisted an engineering firm to begin lab testing Takata inflators, I hear from Yokohama. Sneered a flack who requested witness protection: "We didn't need to issue a statement, we took action before they issued a statement."