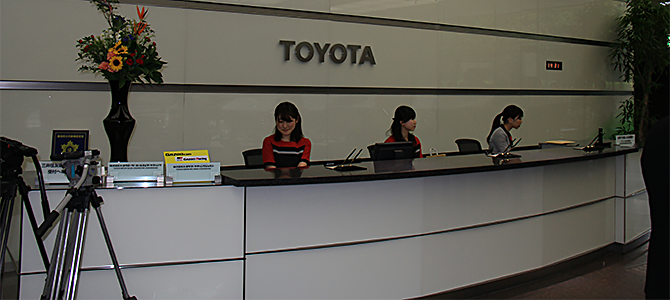 With Toyota having handed in its sales and production numbers for November and year-to-date 2014, the race for World's largest Automaker is pretty much decided. It will end as predicted by the Daily Kanban half a year ago:
Toyota first, Volkswagen second, GM third. Next year, expect a new leader.
World's Largest Automakers
11 Month 2014
Jan-Nov 2014
Jan-Nov 2013
YoY
2014 proj.
Toyota
9,468,932
9,337,668
1.4%
10,330,000
Volkswagen
9,080,000
8,680,000
4.6%
10,130,000
GM
9,009,908
8,862,045
1.7%
9,829,000
Source: Company data. GM, VW: Deliveries. Toyota: Production.

Blue

: Estimate

Volkswagen data ex MAN and Scania.

Included in estimate
GM hasn't handed in numbers, it does so only every quarter. This forces us to make crude interpolations as far as GM is concerned. However, the results are spread out enough to create enough confidence in building a ranking. The ranking is quite firm with the caveat of a huge catastrophe happening in the last month the year. With only seven days to go, and most executives at automakers already on vacation, the risk of a catastrophe is minimal.
Toyota, which announced pretty much a no-growth strategy for this year and the next, is delivering on its promises. Global growth of production slipped to 1.4 percent for the year. This on sudden weakness in November, both at home and abroad. Domestic production dropped 5.7 percent in November across the Toyota, Daihatsu, and Hino group companies. Production outside of Japan fell 7.2 percent, for a combined global monthly deficit of 6.6 percent. Nevertheless, Toyota is building cars as fast as it can. Global capacity utilization is solidly above 90 percent, and with no money spent for bricks and mortar, Toyota should deliver record profits after its fiscal ends on March 31.
Volkswagen is talking the opposite route. It is pouring money into expansion projects as if auto sales will rise forever. Currently, this strategy works. Volkswagen enjoys about three times the growth rate of its contenders. However, the expansion is costly, and last week in Dresden, VW chief Winterkorn admonished his managerial colleagues to tighten the belt a bit. Nevertheless, Volkswagen is set to replace Toyota as the world's largest automaker in 2015.
Big problems in Russia, and a slowdown of the Chinese market could prompt Volkswagen and GM to rethink their expansion strategies.
Note: Dailykanban.com tracks production, not sales, because this is how the world automaker umbrella organization OICA ranks automakers. Toyota reports both sales and production, we take production. Volkswagen and GM report "deliveries" to wholesale – which is, at least for this exercise, close enough to production. Like its peers, Volkswagen will report its annual production including heavy trucks and buses. They are not contained in the YTD count. Volkswagen Group companies MAN and Scania produced 225,000 units in 2013. We have included this number in our projection.