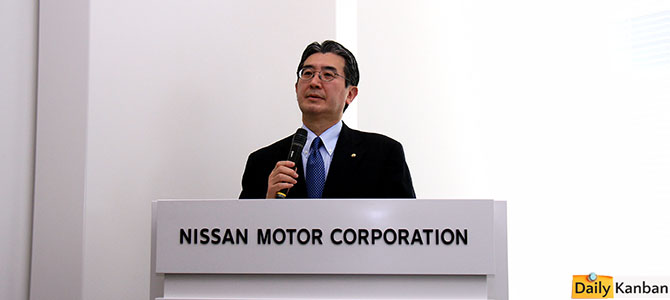 Ever since the DailyKanban broke the story of the range-doubling Leaf nearly two months ago, facts have been dribbling out of Nissan drop by drop. At the Detroit Motor Show, Nissan's CEO Carlos Ghosn dropped a few heavy hints. Today, we came as close to confirmation as possible at this point in time. In a press conference at Nissan's Yokohama HQ, Nissan's dapper Japan Chief Takao Katagiri told reporters to expect "a more efficient EV with an improved battery" during Nissan's fiscal 2016, which goes from April 1 2016 through March 31 2017. In the "a picture says more than a thousand words" dept., a slide Katagiri put up against the wall during his remarks was more forthcoming.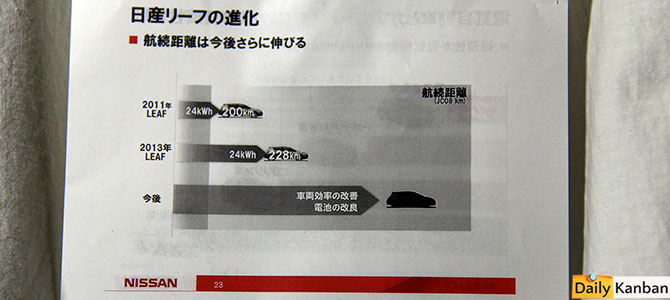 The slide shows a 2011 Leaf with a range of 200km, followed by a 2013 Leaf with 228km, followed by a mysterious unnamed vehicle with an unspecified, but much longer range. I obtained a copy of the slide, and measured the arrow. It is exactly twice as long as the arrow depicting the range of the 2013 Leaf. Mind you: We are in Japan, the land of high precision.
228 km (141miles) times two would be 456km, or 283 miles. Of course, this is according to the hopelessly optimistic Japanese JC08 standard. However, it is a safe assumption that the new Leaf will get double whatever range it currently gets. Did I say Leaf? The name of that new range-doubling EV is not announced. It could be Leaf, it could be anything. The car on the chart has a distinct Leaf-like silhouette, though.
Katagiri ominously and repeatedly mentioned "evolution and renewal" of Nissan's EV program in the fiscal 2016 timeframe, leaving the door open to anything, from a mild refresh to a completely new car, or both.
The Nissan Leaf is the world's best-selling electric vehicle, and with 158,000 units sold globally so far, it is "already a volume model," Katagiri said. While most EVs have been sold to EV enthusiasts so far, the Nissan Leaf is winning the hearts and minds of mainstream customers. The low running costs (a fifth of a gasoline-powered car) is the biggest reason for purchase with these customers, Katagiri said.
Speaking of fuel cell vehicles, Katagiri left the door open:
"FCVs are a promising future technology. There are challenges, like vehicle cost, infrastructure, hydrogen fuel cost. We are involved in FCV research, but we would like to leverage our strength in EVs. Depending on how the infrastructure progresses, we may spend greater efforts with FCVs in the future."
Interesting statistic: In Japan alone, Leaf owners have access to 6,000 quick chargers, a number that tripled this year, Katagiri said. "Combined with those at home, there now are more than 40,000 chargers in Japan, in a way already a denser network than the 34,000 gas stations we have in the country."