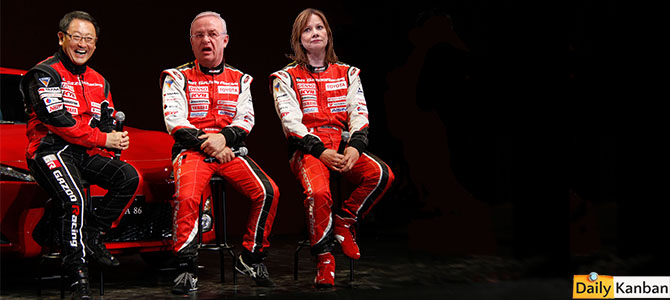 Analysts, including DailyKanban, gave Volkswagen good odds to overtake Toyota this year, and to take the top spot in the World's Largest Automakers ranking. Then, peak cars made itself felt. Not just Toyota, also #2 Volkswagen and #3 GM have slowed down markedly, and by the end of the first quarter, the ranking hasn't changed.
World's Largest Automakers
3 Month 2014
Jan-Mar 2015
Jan-Mar 2014
YoY
2015 proj.

Toyota

2,559,211
2,634,195
-2.8%
10,237,000
Volkswagen
2,490,000
2,440,000
2.0%
9,960,000
GM
2,399,000
2,416,000
-0.7%
9,596,000
Source: Company data. GM, VW: Deliveries. Toyota: Production.
Toyota is taking a long-planned technical pause while its TNGA architecture is coming on-line. Volkswagen's former rapid growth has slowed down to a published 1.8 percent year-on-year (our spreadsheet says 2 percent, due to VW's heavily rounded numbers.) GM even booked an 0.7 percent loss in deliveries.
If all three of them maintain their current trajectories, the year could end unchanged again. However, it is far too early to make any predictions.
A note to the new management at TTAC: Volkswagen isn't "closing in on its immediate goal of becoming the second largest automaker in the world by the end of 2015." VW has been the world's second largest automaker since it scraped by GM in the 2013 global ranking, when, in a late surprise development, it found 15,000 units more than GM after all the trucks and buses of MAN and Scania were counted. For 2014, Volkswagen was way ahead of GM. Also, Volkswagen's declared goal is to be #1, not #2. One would get fired for setting a #2 goal. Volkswagen didn't "edge out General Motors for the second spot." It's already been in that spot for a while. Sourcing your info on sloppy Autoguide does not seem to be such good an idea. As professional courtesy, links to true sources have been provided.