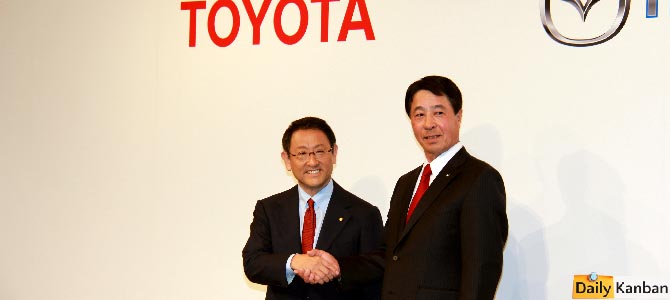 "Consolidation is going to continue, you are going to see more and more cooperation by carmakers," said Nissan's and Renault's CEO Carlos Ghosn today in Yokohama. He could not have been more prescient. Only three hours later, and only 20 miles up the road, two storied carmakers entered a long term alliance. In a surprise press conference at 7 pm in the evening, Toyota and Mazda announced a "mutually beneficial long-term partnership."
CEOs Akio Toyoda and Masamichi Koga talked a lot about the partnership, but very little about the details, except that Mazda will share Toyota's hybrid technology, and that Toyota will share Mazda's new factory in Mexico to make compact cars for the North American market. However, there is little doubt that this tie-up is much more than a casual one night stand.
Mazda is a good-looking, but cash-poor divorcee. It had been a part of Ford from 1979 through 2010. After the onset of the world financial crisis in 2008, Ford filed for divorce, turned its 33 percent share of Mazda into cash, and converted it from a strong yen into many badly needed US dollars. In the tradition of badmouthing your ex, Ford then blamed, on a daily basis, the nasty Nips for closing their market, and manipulating their currencies. Mazda was left alone, and in a lurch, cut off from foreign production bases in times when they were needed the most. It was clear that Mazda would have a hard time surviving on its own.
In calendar 2014, Mazda produced 1,328,426 units globally. 934,300 of those were made in Japan, 394,126 were produced overseas. Who needs to partner with a carmaker that is so heavily focused on Japan, and so little on the world's growth markets? In times when pundits say that most cars will run on electricity real soon now, who needs a company intent on increasing the efficiency of the ICE, as Mazda does with its Skyactiv technology?
"It's not all about numbers, or scale," said Akio Toyoda today in the ballroom of the Grand Hyatt in Tokyo's trendy Roppongi district. Toyota wants to make cars "people love," and just like Toyota's erstwhile partner BMW, Mazda makes cars that are sexier than Toyota's sometimes frumpy offerings, and it sells them to enthusiastic admirers of the brand.
When both CEOs were asked by reporters today which of the cars of their counterparts they love, Akio Toyoda singled out Mazda's Demio supermini, whereas Koga named Toyota's sporty hachi-roku, never mind that this car is the fruit of another alliance, namely that of Toyota and Subaru.
Nobody wanted to talk about capital tie-ups today, but nobody wanted to rule them out either. Prodded by a Reuters reporter who compared today's festivities with a wedding party, Akio Toyoda first said that this is "an engagement, and not yet a wedding." However, a few remarks later, both CEOs kept carrying on about a marriage, and the babies that would come from it, and how lovingly and responsibly both proud fathers would bring the babies up.
It looks very much like a modern relationship, where both parties move in together, and who won't get formally married unless the test of daily realities has shown that the marriage will last.
As the ever-prescient Ghosn said hours before the engagement party: "Consolidation can take the shape of mergers, unfortunately they have not been very successful. Consolidation can take the shape of alliances, and we are a 16 year old living example of a successful alliance where two autonomous and independent companies are working together, developing synergies harmoniously without major conflict."