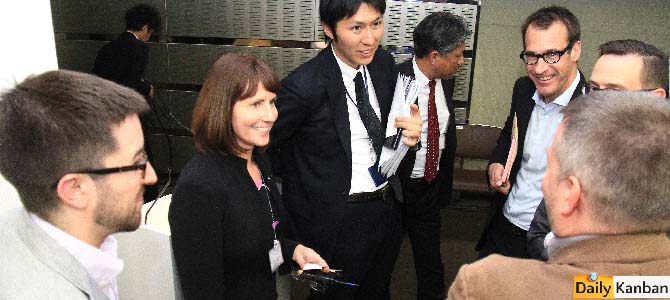 On the second day of the developing scandal surrounding Toyota's PR chief Julie Hamp, it appears as if the best outcome will be deportation from Japan, and the worst many years in a Japanese jail. Ms. Hamp was arrested yesterday at her hotel in Tokyo's Roppongi ward, after a customs agent found 57 pills containing oxycodone in a package sent to her from the United States. Oxycodone is a controlled substance in Japan, a country with very stiff anti-drug laws.
Today, Toyota canceled a press event planned to announce a new turbocharged diesel engine. Instead, a hastily arranged press conference was held at Toyota's Tokyo HQ. Toyota's CEO Akio Toyoda apologized for "the kerfuffle," and said that his company believes that Hamp had no intent of breaking the law. Very little in terms of facts was disclosed at the news conference, and Japan's media went back to its desks, and to writing comments along the lines of "that's what you get when you put a foreigner in charge."
Officially, Tokyo's Metropolitan Police Department is keeping a tight-lipped news posture, while unofficially, Tokyo's police is leaking damning information. Julie Hamp "apparently tried to disguise illegal drug tablets sent from the United States to Japan as other goods," Jiji Press heard from "sources at Tokyo's Metropolitan Police Department." According to the sources, the oxycodone tablets were in a parcel, declared as containing necklaces. Jiji says the tablets "were divided into small groups and stored in a box wrapped with plastic cloth, where necklace and pendant containers were placed on the tablets." Kyodo News, citing similar sources, says "the pills were placed in the package in several bundles, with some contained in an accessory case and a paper bag."
Would the pills have been sent in an official container, they probably would have been sent back if found, or impounded with a warning, whereas hiding the contraband demonstrates criminal intent, or so the reasoning goes.
If the allegations are true, Ms. Hamp is in serious trouble. A Tokyo criminal defense lawyer interviewed by Reuters said today that the large number of pills meant that, if indicted, Julie Hamp could face years in prison, followed by deportation. It would be tough to get a suspended sentence because of the large number of pills, the lawyer said. For a foreigner in Japan, a suspended sentence usually means that the visa is revoked. In cases that are not as high profile as this one, a deal could be cut, and the defendant would leave the country. So on the second day of the scandal, the best Julie Hamp can hope for is that her stay in Japan comes to an abrupt end.