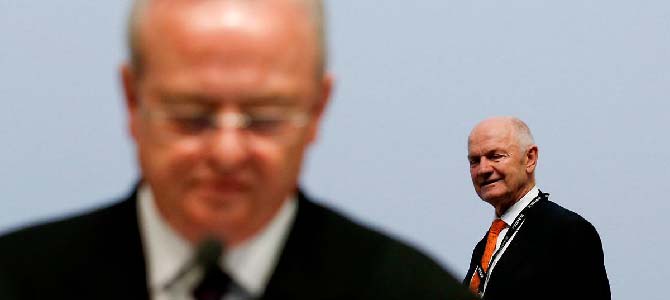 Last weekend, Volkswagen CEO Martin Winterkorn told Bild am Sonntag that his company will finally build a budget car line, 2018, in China. A few days earlier, Ferdinand Piech's older brother Ernst told Germany's society magazine Die Bunte that Winterkorn is putting Piech's lifetime achievement in jeopardy. Both are connected.
Before we connect the dots, let's set one item straight. Volkswagen is not going for a budget car, in the current sense of the word. Volkswagen plans cars that sell in China for more than $10,000. The current benchmark for true budget cars is the Renault Kwid, a compact SUV introduced in India. It goes for less than $5,000. It is scheduled to be followed by a Datsun-branded sister model, probably for a little less than the Renault.
A Polo-sized compact SUV is what Volkswagen needs in China, and it needs it in a hurry. This segment is on fire in China, has been for a while, and the fire is being fueled not by the joint ventures, but by Chinese makers, notably Great Wall and Changan. According to the Wolfsburg Flurfunk , the "hallway radio" that stands for Volkswagen's proprietary rumor mill, one of Piech's series of beefs with Winterkorn was "why can Great Wall do what we can't?"
According to the hallway radio, Piech ordered-up a Great Wall's Haval H2, and had it shipped to Salzburg, where it was dismantled, and put under the magnifying glass. In China, the trucklet goes for around $16,000. Apparently, the dismantlers decided that Volkswagen is unable to meet that price without losing money. So it was decided to buy the expertise from the company that obviously has it, Great Wall. Piech's relative and Volkswagen's sales chief Christian Klingler was dispatched to China, wrote Manager Magazin, to discuss a joint venture with Great Wall. Taking shares in Great Wall also was an option.
When the news of the tech-a-tete between Volkswagen and Great Wall became public, alarm bells rang at Volkswagen's Chinese joint venture partners SAIC and FAW.  They were furious, and the affair with Great Wall was hastily scrapped. Winterkorn's first decision after Piech's departure was to give the supposed budget car project to its Chinese joint venture partner FAW, says the hallway radio. The Flurfunk also wonders what gives FAW the sudden expertise to come up with a compact SUV at a price Volkswagen's own engineers were unable to meet. FAW's own designs tend more towards the over-the-top Stalinesque Red Flag cars.
Was the Chinese budget car disaster the reason for the breakup between Piech and Winterkorn? Early April, Piech dropped his famous "I am at a distance to Winterkorn" quote. Two weeks later, the secret Great Wall affair leaked, and a few days thereafter, Piech was out.
The timing may appear ominous, but the hallway radio says that the Great Wall affair was simply the last straw that broke Piech's back. According to his brother's Bunte interview, Piech had doubts about Winterkorn for at least five years. The inability to come up with a class-leading low-cost offering shows that VW is no longer managed by a visionary, and that the People's Car Company has lost touch with its roots. When its budget line finally hits in 2018, it will be too much, too late. The company to watch is Nissan/Renault. It sells its Kwid compact SUV now in India for less than half of what Volkswagen targets in three years in China. Volkswagen's MQB kit is too expensive for a $16,000 car, but Nissan/Renault can build a $5,000 car from its CMF-A architecture.
P.S.: Carnewschina chief Tycho de Feijter points out that Volkswagen had low-cost cars in China for ages, to wit the Santana (starting at around $15,000) the Chinese version of the Polo (starting at around $13,800) and the made-in-China Jetta (from $13,300.) VW just seems to be unable to turn them into approachable-priced crossovers. Chinese Santana/Polo/Jetta are based on the decidedly pre-MQB PQ25 platform, while Nissan/Renault's much lower priced offerings are the outcome of a cleansheet new architecture, written up by yours truly two years ago.