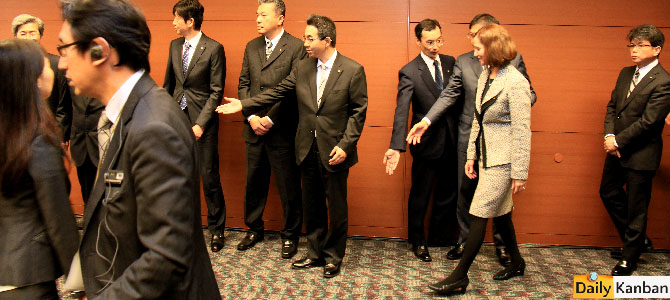 Toyota's former communication chief Julie Hamp will be released from her Tokyo lockup tomorrow, July 8, Kyodo News says. Tokyo's prosecutor will not indict her, says the newswire, citing "investigative sources," a euphemism for a police leak.
Neither Toyota nor the Tokyo Police would confirm the report. Tomorrow is the deadline of Hamp's 20 day arrest, after which prosecutors must indict, or set her free. According to Kyodo, "the prosecutors appeared to have taken into consideration the fact that the 55-year-old American's act was not malicious and that she has already resigned from the post at the Japanese automaker."  On the basis that Hamp's family sent her the pills to alleviate knee pain, the prosecutors decided that her malicious intent was low, the Yomiuri says. This is the face-saving exit strategy written up by yours truly last week. If the story is true, Julie Hamp should be home soon.
Police arrested Ms. Hamp June 18 after 57 oxycodone pills were found in a package sent from the U.S. to her Tokyo hotel. The drug, a powerful painkiller, is illegal without a prescription in Japan.