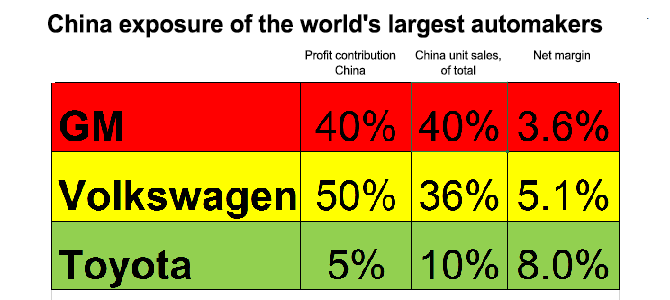 The Chinese new car market, good for rapid growth for nearly a decade, suddenly went negative. Early indicators show that the decline continues. Who will be most hit if/when the China market turns real sour?
Global automakers are highly dependent on the Chinese auto market. 40 percent of GM's global unit sales are made in China. 40 percent of GM's net profits originate in China. Volkswagen creates half of its profits in the Middle Kingdom, 36 percent of its unit sales are made in China. Both have made aggressive investments into China, and are ramping up capacities.
Both GM and VW appear to be similarly exposed to a reduction in Chinese sales. However, with a higher net margin, Volkswagen can weather a downturn better than GM. If GM is barely profitable at the peak of the global auto market, how will it survive the downturn?
Toyota, still the world's largest automaker, is more or less insulated from a Chinese contagion. Only some 10 percent of Toyota's unit sales are in China. China contributes only 5 percent to Toyota's overall profits. Toyota's net margin is the highest of the three, and the company has not taken part in the wild expansion on capacity in China.