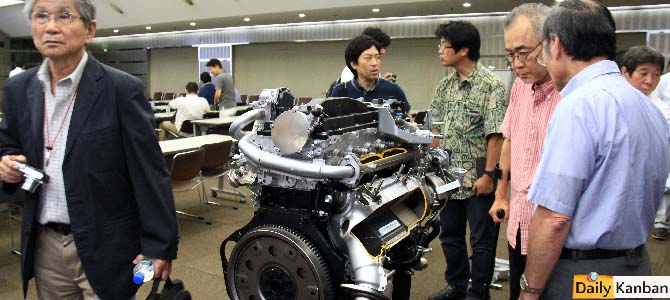 If you think diesel engine, the name Toyota doesn't necessarily leap to mind. Appearance can be deceptive. The Japanese maker cranks out around a million diesel mills annually. Behind Volkswagen, Ford, and PSA, Toyota is the world's fourth largest maker of diesel engines, we learned today from Yoshihiko Hamamura, Toyota's top engine man.
Toyota presented today a range of revamped turbo diesel engines, and shattered an ambitious target. In 2012, Toyota set a goal to meet and exceed 40 percent thermal efficiency, meaning that at least 40 percent of the energy put into the car is converted to motion. Higher thermal efficiency, more miles to the gallon.
Three years after setting the goal, Toyota's 2.8 liter 1GD-FTV engine reaches a thermal efficiency of 44 percent, which makes it, says Toyota, "one of the most thermally efficient engine in existence." Details about that engine and its siblings can be found in a press release dated June 19th. On that fateful day, Toyota's PR chief Julie Hamp was arrested for smuggling Oxycodone into Japan, which ended her career. The diesel press conference planned for that day was scrapped, and finally moved to today.
Toyota plans to build some 700,000 a year of the new diesel, and to roll it out into approximately 90 markets by the end of 2016.
Toyota has a number of alliances with other makers in order to serve the diesel market. Toyota's reinvigorated push into the field could cause frictions. BMW supplies small diesel engines to Toyota. Efficient diesels are the strong suit of Toyota's new alliance partner Mazda. Toyota has a diesel joint venture with PSA. Cummins supplies the diesel engines for Toyota's Made in the U.S.A. pickups. Today, Hamamura deftly sidestepped questions regarding these alliances, claiming that he's just an engineer, and that the alliance business is run elsewhere.