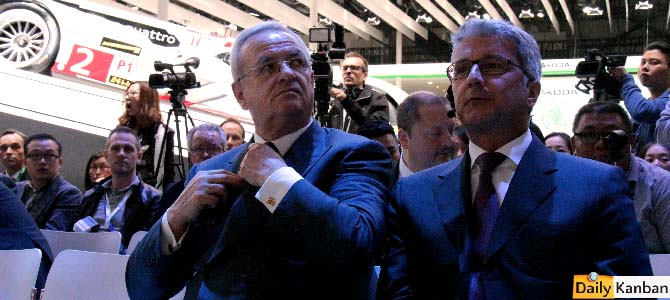 The Flurfunk was perplexed. Until yesterday, anyone with a license to tune into the hallway radio, Volkswagen's fast and furious rumor mill, would hear that current CEO Martin Winterkorn would be promoted to the much cushier job as Chairman of Volkswagen's Aufsichtsrat (Supervisory Board) for sure, and that the heavy lifting expected from a Volkswagen CEO would fall to current Porsche chief Matthias Müller. Then yesterday, it was announced, much to the hallway radio's consternation, that Winterkorn would stay on as CEO for two more years. Then today, Reuters picked up that Hans-Dieter Pötsch, Volkswagen's long-time CFO, would be nominated for the chairman slot. Hours later, Volkswagen's PR department confirmed. The hallway radio was speechless. What happened?
In April, Winterkorn won a boardroom brawl with Volkswagen's patriarch Ferdinand Piech, a man who is not used to lose. WiKo, as he is called in Wolfsburg, won with the help of the State of Lower Saxony (holds 20 percent of the shares) and the unions (occupy half of the board seats.) Piech had pressed for drastic cost reductions, noting that Toyota can make 10 million cars and $23 billion in operating income with 344,000 people, while Volkswagen needs nearly twice as many jobs to make 10 million cars and $12 billion of operating profits. Piech installed Herbert Diess as chief of the Volkswagen Brand. The relentless cost-killer and über-engineer arrived in Wolfsburg with a sharp tongue and a keen eye for fat to cut. In a normal boardroom, this would be greeted with applause. Volkswagen's boardroom is unlike any other. When Piech started badmouthing his former confidante Winterkorn, the State of Lower Saxony, home to the bulk of Volkswagen's workers, and the unions defenestrated Piech, and Winterkorn became a pawn of both.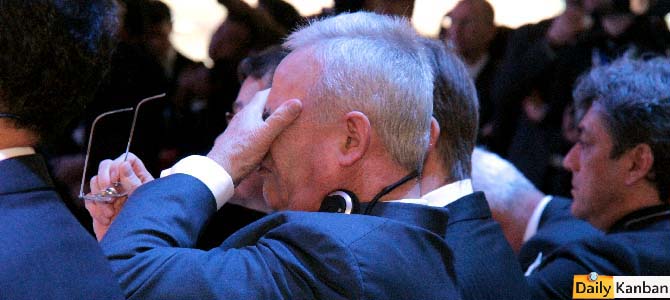 The Supervisory Board was in no big hurry to replace Piech as chairman. Berthold Huber, formerly Chief of the IG Metall metal workers union, and vice-chairman of the supervisory board, became acting chairman, and as such he saw no reason for undue haste. In early summer, the hallway radio reported that the chairman post would go to Winterkorn. In a German supervisory board of a large corporation, half of the seats go to the shareholders, half of them are occupied by labor. In case of an inevitable tie, the chairman, however, can be the tie-breaker. With Winterkorn chairman by the grace of the unions and the state of Lower Saxony, any cost cutting efforts would immediately be dead. In the human touch dept., Winterkorn is said to be suffering from painful hip problems, which call for an extended stay at a hospital to be fixed, something WiKo did not want to risk. Freed from the daily demands of the CEO and out of the line of fire, Winterkorn would finally be able to tend to his ailments, or so the hallway radio said.
The only thing that delayed an announcement of WiKo's chairmanship was who would succeed him as CEO. Think of the State of Michigan and the UAW looking for a successor of Mary Barra, and you can imagine where that would lead. If you were good at your CEO job, you were suspect. If you were not, you were out of the question. The search became so desperate that before Volkswagen went on vacation, the hallway radio reported that a proverbial bean counter, CFO Hans-Dieter Pötsch, could be slated for the CEO job – something that was immediately discounted as a wild rumor caused by too much sun.
When everybody was back from vacation, the hallway radio said that Porsche chief Matthias Müller would get the CEO job when WiKo takes over as chairman of the supervisory board. This was immediately interpreted as the long arm of Piech getting back into action. After all, Piech had proposed Matthias Müller as Winterkorn's successor, but found no takers. On Tuesday, a scathing article appeared in the small Braunschweiger Zeitung (no online version, reprint, in German, here.) Under the headline "Many question marks behind Winterkorn's future" the article reads like Piech had opened his little black book of WiKo's sins: Too autocratic, a digital noob, too many workers, has not recovered from his infight with his former sponsor Piech, profits at the Volkswagen brand way too low, slept through the U.S. boom, screwed-up Suzuki, no budget car in China, and so forth. The author of the article, one Andreas Schweiger, had not made a name for himself as a reporter intimately connected with Volkswagen's elite, and the hallway radio promptly fingered Piech as the Deep Throat.
One day after the story appeared, and to everybody's surprise, it was announced that WiKo would stay on as CEO until 2018, and another day thereafter, the improbable CEO candidate Pötsch was slated as supervisory board chief. Piech's intervention, however imaginary as it may be, still manages to make for quick decisions.
Today, the hallway radio opines that both decisions were simply made to buy time, and to ward off an encroaching Piech. WiKo does not need to stay in his CEO job until 2018, and he can take the chairman's chair whenever a suitable, brilliant, and non-threatening new CEO is found. The hallway radio also reports that in other news, the highly unpopular sales chief Christian Klingler would be disposed of in a socially responsible manner, namely as chief of Porsche. Skoda sales chief Werner Eichhorn is said to be trading jobs with Thomas-Werner Zahn, currently sales chief of Volkswagen Passenger Cars. The hallway radio says that Diess wants to get back former Audi sales chief Peter Schwarzenbauer, who left for BMW in a huff after too many battles with Christian Klingler. The hallway radio says that Schwarzenbauer doesn't want to come back unless Klinger goes.
No responsibility is taken for the correctness of this information. As we have seen, the hallway radio has been wrong before.