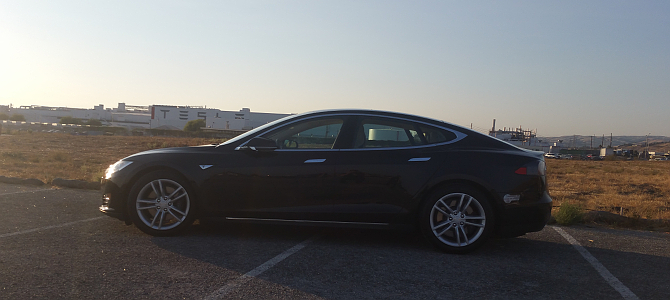 Throughout its history, Tesla has always been a company that is looking ahead. Even when the company was hand-assembling tiny volumes of Roadsters, CEO Elon Musk's "Top Secret Master Plan pointed the way towards lower prices and higher volume. Now, with two vehicles on the market and annual production volumes moving towards the six-figure mark, Musk told analysts on Tesla's most recent earnings call that lower-cost, higher-volume Model 3 is "overwhelmingly our focus." As for the Model S and Model X, Tesla's so-called "Gen 2 vehicles," Musk says "things feel really quite stable."
That doesn't mean that Tesla is done investing in its current lineup, however. In fact, the electric automaker's latest approved application for sales and use tax exclusion (STE) from the California Alternative Energy and Advanced Transportation Financing Authority (CAEATFA) [PDF of CAEATFA's staff report here] reveals that it is actually spending nearly half a billion dollars in order to expand the production capacity of its Gen 2 vehicles to 195,000 units per year by approximately 2021.
Tesla's request, which was approved unanimously by CAEATFA on December 15,2015 [PDF of meeting minutes here], is its fourth successful application to the program which allows qualifying companies to exclude purchases of manufacturing equipment from state and local sales and use taxes. It's also Tesla's largest approved request to date, excluding the purchase of about $463,625,000 worth of manufacturing equipment from some $39,037,225 in sales and use taxes. CAEFTA's staff analysts estimate that STE support will contribute 41 permanent jobs out of the 1,384 new permanent jobs associated with this expansion, and will provide net benefits to the state of $27,572,193.
According to the CAEATFA staff report:
"Tesla will spend approximately $464 million to expand its Models S and X production and development capabilities. By making additional capital purchases to expand its body shop, stamping line, vehicle assembly, plastics shop, production control, tooling and prototyping, Tesla anticipates it will produce approximately 118,000 additional Model S and X vehicles per year. This is an addition to the Applicant's current projected annual rate of approximately 77,000 Model S and X vehicles per year."
Tesla told CAEATFA's analysts that its purchase of qualified property, or the equipment to be excluded from sales and use tax and used for this expansion, will "take place between January 2016 and the end of 2018, with full production realized within six years."

According to cost estimates from the CAEATFA staff report, the largest line items are about $140 million for body shell tooling, $88 million for interior systems tooling, $35 million each for battery processing equipment and materials conveyance, and $23 million for body shop equipment. Significantly, CAEATFA staff note that Tesla will use some qualified equipment to expand tool and die manufacturing and prototyping as well as for production expansion. Tesla is known for continually updating its vehicles, and the purchase of equipment tool/die making and prototyping could point to significant hardware changes for its Gen 2 vehicles down the road.
Though Tesla is not sharing any such plans, the prospect of major improvements to the Model S and Model X seems to be a critical factor in making sense of this investment. After all, Tesla's Gen 2 vehicles hardly appear to have been in any danger of undercapacity when CAEATFA approved tax relief for the expansion last December. According to CAEATFA's staff report, Tesla's annual production capacity at the time was some 77,000 units even though the firm only delivered 50,580 units in 2015. That would imply a capacity utilization of about 65%, which is well below the 75%-85% utilization level that is generally considered the floor for an operationally profitable auto plant.
Delays and early production challenges for the Model X may have been at least partially responsible for that low utilization rate, and may explain why Tesla moved to expand production regardless. However Tesla's sales since the beginning of this year raise real questions about the firm's ability to sell nearly 200,000 of these high-end vehicles each year.  Tesla's deliveries have declined sequentially in each of the first two quarters of the year, and second half sales will have to grow significantly in order to sell all of the 80,000 to 90,000 vehicles Tesla estimates it will build this year. According to Dave Sullivan of AutoPacific, significant sales growth for the Gen 2 vehicles "seems unlikely given the weak launch of the Model X, the advancing age of the Model S, declines in some tax incentives and increasing competition."
Tesla is already taking a number of steps to shore up demand for its Gen 2 vehicles, offering new high-end 100kWh versions and low-end 60 kWh versions of the S and X, while adding a number of discounts to its $1,000 referral bonus program. Reported initiatives include new leases offers with lower monthly payments, discounts of up to $30,000 on certain inventory vehicles, offers to waive a $1,200 destination and documentation fee, half-price upgrades for certain Model X configurations and a campaign to convert Model 3 reservation holders to the new lower-cost Model S 60.  Tesla has also refreshed the Model S's front fascia for the first time since it began sales in 2012, giving the car a mid-cycle facelift to reflect its numerous changes under the skin. If all these efforts prove necessary to boost Gen 2 vehicle demand to about 100,000 units per year, more radical steps will be necessary to double their sales volume again.
The highest annual sales forecast that Tesla has ever given for its Gen 2 vehicles was when Musk predicted as many as 150,000 units in 2018 on the Q1 2016 earnings call. Previously, Musk had predicted "mature" demand for the Gen 2 vehicles at "maybe a hundred thousand units per year, or maybe a bit more." But Tesla has never given a forecast intended to characterize demand in 2021, the year that CAEATFA staff expect the expansion to make 195,000 units per year a possibility. Though the Model S will be nearly ten years old by then and though competition in the electric car market is likely to be far tougher than it is today, it's always possible that a major update or significant cost-downs enabled by this project could bring demand up to the 200,000 unit per year level.
Regardless of whether or not this proves to be possible, Tesla's investment of nearly half a billion dollars into its Gen 2 vehicles seems strange given the firm's stated focus on accelerating the production ramp for Model 3 and emphasis on short-term cost-cutting. When asked during the Q2 earnings call about other vehicle programs referenced in his latest Master Plan, Musk told analysts: "I think we want to postpone anything that's a heavy capital impact until after the Model 3 production is ramped." The one factor that might explain the decision: according to CAEATFA's STE rules, Tesla can use the purchased equipment for other projects as long as it is used for the stated program at least 50% of the time. Given Musk's recent emphasis on improving production efficiency, it seems likely that Tesla will take advantage of this leeway.
Of course, investments for the Model 3 launch are still underway and they dwarf this slow, six-year expansion of Gen 2 vehicle capacity. Tesla's most recent application to CAEATFA's STE program requests almost $100 million worth of sales tax exclusions on a whopping $1.2 billion worth of equipment –the most the program has ever seen– that will be used to produce Tesla's 3rd gen family of vehicles. That application won't be approved until December at the earliest according to a CAEATFA analyst, but Daily Kanban has made a public records request for a copy. Provided there is still valuable information on it once any sensitive business information is redacted, we will be sure to report on that  as soon as we can.