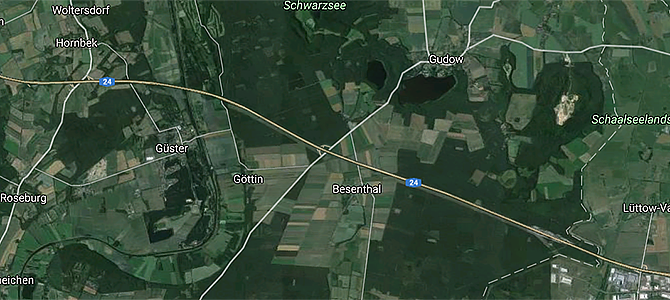 Last Wednesday, a Tesla Model S rear-ended a bus on the German Autobahn. Usually, no-one would take note, but because it was a Tesla, the crash created, and still creates headlines. Naturally, most original news report are in German. The urge to use Google Translate is great. Pro tip: Don't do it. Staying away from doing armchair accident analysis via Google Translate will help you avoid stupid mistakes such as that of thedrive.com, which, after running a German police report through the online translator, came to the following misguided conclusion:
"But, basically, it appears that a bus simply sideswiped a car, while the latter happened to be operating in a semi-autonomous capacity."
Not true at all. As a public service, the Dailykanban provides a true translation of the police report. See yourself whether the bus sideswiped the Model S.
POL-RZ: Bus rear-ended – correction/addendum

Ratzeburg (ots) – 9/28/2016 -BAB 24 / Gudow

Two days ago at around 2:20pm, there was a traffic accident involving a passenger vehicle and a bus traveling on Bundesautobahn 24 in the direction of Hamburg near the Gudow rest-stop.

A bus from Denmark, occupied with 29 people, had passed a truck and was in the process of transiting back into the right lane. According to concurring statements of several passengers of the bus, the driver of the bus had nearly completed the passing maneuver, and already was in the right lane with approximately three fourths of the bus. At this point in time, a 50 year old man from Brandenburg rear-ended the bus with his Tesla vehicle. The exact cause of the accident remains undetermined at this time. According to preliminary investigations, the driving assistant of the Tesla was engaged.

During the accident, the driver of the passenger vehicle sustained minor injuries, the passengers of the bus were unharmed. Total damage is approximately EUR 55,000.

Please address any inquiries to:

Police Directorate Ratzeburg
Kathrin Bertelsen
– Press Office –
Phone: 04541 / 809-2010
Anybody see any mention, or even a vague appearance that the bus may have sideswiped the Tesla? The bus driver "already was in the right lane with approximately three fourths of the bus." Then the Tesla "rear-ended the bus." [Fuhr auf = drove into, rear-ended.]
Germany's Manager Magazin provided its own public service by contacting Ms. Bertelsen in Ratzeburg. The reputable magazine was unequivocally told by the press officer:
"The bus did not sideswipe the Tesla, that's out of the question."
The story written in thedrive.com also was reprinted by Yahoo. In the future, please send me a message if you need a better translation than what is provided by Google. Or pick up the phone and talk to Ms. Bertelsen. No Google needed.
Ibn the meantime, and as long as the police says that "the exact cause of the accident remains undetermined," the Dailykanban will refrain from any speculation. We suggest to do likewise.