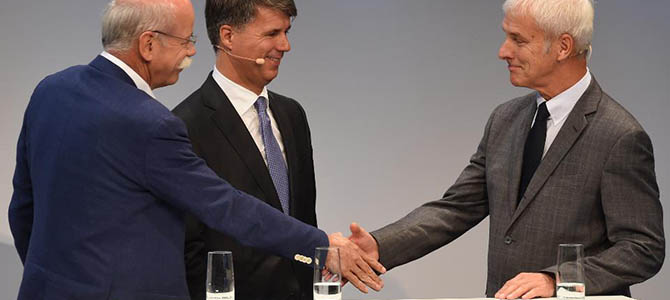 Two years ago, the dieselgate scandal just started to unfold, I recommended to dig deeper, and to dig elsewhere than Volkswagen, because having worked in said Industry, I knew that dieselgate is everywhere. Everybody in the industry knew it, but nobody talked. In America, dieselgate-cheaters are behind bars, while in Europe, emissions cheating is treated as a lesser offense than illegal parking: Not a single fine was handed out in Europe. Today, peccadillo suddenly morphed into a monstrous antitrust case when it became known that dieselgate is the product of a secret cartel far beyond Volkswagen. "Audi, BMW, Daimler, Volkswagen, and Porsche colluded for years in more than 1000 meetings," wrote Der Spiegel [German, paywall] today.
Germany's Handelsblatt has a similar report. EU antitrust regulators confirmed investigations, Reuters wrote.
The dieselgate scandal never was as simple as the common good prevailing over the villain Volkswagen. Today, we may begin to understand the true enormity of a scandal that involves a cabal of carmakers and politicians.