What the 2011 tsunami couldn't accomplish, bureaucrats did: Nissan's Japanese production will be closed until further notice.
At a hastily thrown-together press conference, called at an unusual time (the sun had long slipped behind Mt. Fuji) Nissan CEO Hiroto Saikawa announced that Nissan's six factories all over Japan would stop making and shipping cars for the Japanese market, pending the resolution of an inspection scandal that taxes the comprehension of anyone outside of Japan. A customary deep bow of shame accompanied the statement.
But why?
Three weeks ago, Nissan revealed that "some of its vehicles had been built without proper safety inspections," wrote the Mainichi.
A week later, Japan's transport ministry said "inspections at five of six plants making Nissan Motor Co. vehicles found stamps of certified technicians on documents signing off checks by non-certified technicians on vehicles for the domestic market," wrote Automotive News. Nissan recalled all 1.2 million vehicles it sold in Japan over the last three years.
Yesterday, the Asahi Shimbun wrote that "unqualified workers were involved in safety inspections of new vehicles at Nissan Motor Co. until Oct. 11, more than three weeks after the government ordered the automaker to stop such practices."
What happened really?
If you are to somewhat at home in the thicket of European regulations, Japan's system of motor vehicle certification and registration would be somewhat familiar. Elsewhere, it would be completely alien.
Inveterate auto-journo Chris Paukert landed in Tokyo while the presser was going on in Yokohama, and I tried to fill him in within the limits of 140 characters. I failed.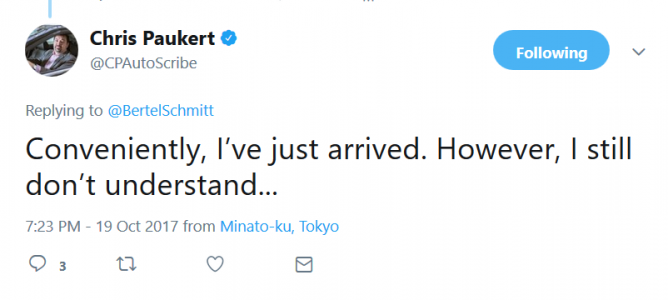 Let's try with a few more characters then.
In Japan, a new car is legal only when tested and approved by government agencies. You don't want to have to do this for each car that leaves the factory. Therefore, in an exercise called "Conformity of Production," OEMs file lengthy statements, certifying that each new car is essentially of the quality as the tested one. Part of this is what is known in the biz as a "control plan" that describes the types of checks and measurements taken to control the quality.
When Nissan files its papers with the Japanese government, part of its plan is that each car is checked by a technician who has received two months of training. After the two months, the technician receives a special pin, and he can legally certify the quality of the car.
Nissan's crime was that some quality controls were performed by technicians while they were still within the two months training period, we heard today from Nissan's Chief Competitive Officer Yasuhiro Yamauchi. "In an attempt to lubricate the operation, the foreman may have decided that a technician is suitably skilled before the two months are over," Saikawa added.
Did any defects slip by these not-yet-certified inspectors. "No," Saikawa said, "no defects." Nevertheless, three years' worth of cars have to go back, in order to get the proper paper, signed and sealed by a man with the proper pin.
As for countermeasures, in order to prevent the drama to re-occur, the quality inspection area will be closed-in, with inspectors behind a secure, authorized access only zone. Possibly they will be fingerprinted to prevent ersatz-inspectors from slipping through, Saikawa said. While countermeasures are being put in place, production for Japan will sit idle for about two weeks, said Saikawa, maybe a bit longer. "I don't want to do it in a hurry, and in desperation, we would like to have some latitude," Saikawa said.
Carmaker press conferences usually are sedate affairs, attended by domesticated financial and industry reporters. Not this one. The late evening press conference at times turned into a verbal free-for-all where reporters alleged that "Nissan is about to collapse." And all that over a lapse in bureaucracy.
Even in Germany, a matter like this would receive barely a finger-wagging, as the country's lenient approach to dieselgate attests. In Japan, rules are rules.
The brouhaha does not affect exports. Cars going elsewhere than Japan are being produced and shipped. "We use the same inspectors," a Nissan manager imparted on me as I left.