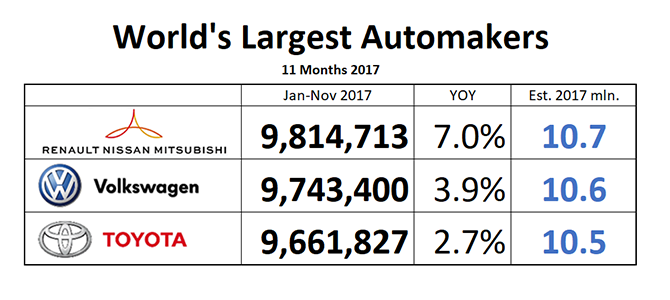 We interrupt our self-imposed Christmas holiday with the news that in all likelihood, the Renault-Nissan-Mitsubishi Alliance will end the year as the world's largest automaker group. Volkswagen Group most likely will come in second.
11 months into the year, the Renault-Nissan-Mitsubishi Alliance remains in front of a very tight field. Volkswagen Group revved-up mightily with an 11.1% increase of deliveries in November, and it allowed it to bypass Toyota for a #2 position. Despite being held back by Nissan's production problems, which decreased the company's Japanese output by 43% in November, the Alliance continued its strong pace. Year-to-date, Renault is up 10%, Mitsubishi increased its output by 11%.
By the end of November, #2 Volkswagen was 71,000 units behind the Alliance, and Toyota was 82,000 units behind Volkswagen. Unless the unexpected happens, this should be the final ranking for 2017. The numbers will be available by the end of January.
Note: This analysis attempts to track production, not sales, because this is how the world automaker umbrella organization OICA ranks automakers. Last year, OICA crowned Toyota as world's largest, after it was widely reported that Volkswagen had won.
Due to the different methodologies of their measurement, "sales" numbers have proven to be unreliable, and prone to 'sales reporting abuses," as recent scandals in the U.S., along with rampant "self-registrations" in the EU have shown.
At the same time, data reported by automakers are becoming increasingly hard to compare.
Toyota reports production only. Volkswagen reports "deliveries" to wholesale – which is, at least for this exercise, close enough to production. The Alliance numbers are a blend of production data reported by Nissan and Mitsubishi, and deliveries reported by Renault.