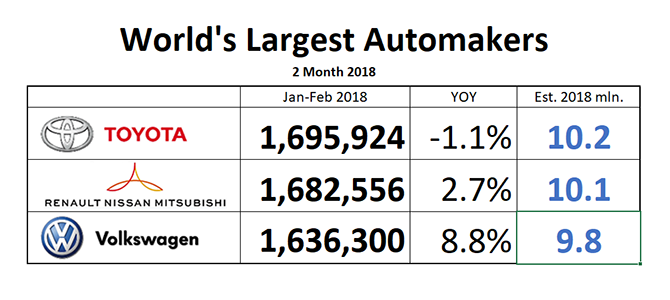 Two months into the new year, it quickly becomes clear that we will witness the so far fiercest fight between the top three global automakers for the title of World's largest Automaker 2018 . Toyota, the Renault-Nissan-Mitsubishi Alliance, and Volkswagen are only a few ten thousand units apart. We will probably see them trading places a few times as the year goes on.
By the end of February, Toyota surprisingly was in the lead, despite a global production decrease of 1.1%. Volkswagen found itself in third place, despite an 8.8% increase in global deliveries. The Alliance came in just 13,000 units behind front-running Toyota.
The Alliance is held back by Nissan. Not only is it still "production constrained" in Japan due to the fallout from last year's quality control brouhaha. In most other global markets, there were minus signs before Nissan's February output. The Alliance's strongest performer is Mitsubishi with a 21% YOY increase in production for the first two months. Renault was up 8.7%
Note: This analysis attempts to track production, not sales, because this is how the world automaker umbrella organization OICA ranks automakers.
Due to the different methodologies of their measurement, "sales" numbers have proven to be unreliable, and prone to 'sales reporting abuses," as recent scandals in the U.S., along with rampant "self-registrations" in the EU have shown.
At the same time, data reported by automakers are becoming increasingly hard to compare.
Toyota reports production only. Volkswagen reports "deliveries" to wholesale – which is, at least for this exercise, close enough to production. The Alliance numbers are a blend of production data reported by Nissan and Mitsubishi, and deliveries reported by Renault.