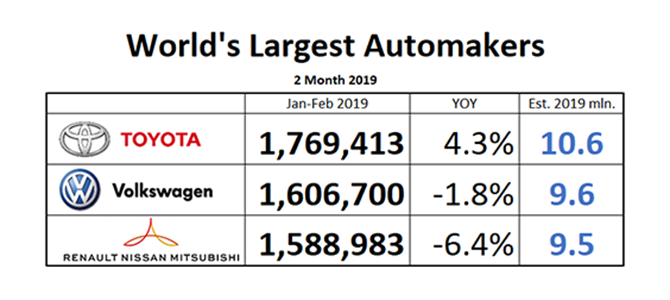 The year doesn't start well for Volkswagen and the Renault-Nissan-Mitsubishi Alliance. Weaknesses at both former powerhouses allow steady-as-we go Toyota to maintain its lead in the 2019 race for World's largest Automaker.
Both Volkswagen and the Alliance are getting it under the chin in China. Volkswagen's China deliveries were down nearly 5% in the first 2 months of the year. That, and negative growth in the U.S., ate up all the nice gains elsewhere, notably in resurging South America and re-awakening Russia.
Alliance numbers look troublesome. For the first time, all three Alliance members must endure the shame of minus signs. Nissan was down some 5% by the end of 2018, while Renault was up 3% and Mitsubishi 20%. That party is over. Two months into the year, Renault is down 8,5%, Nissan 6.3% , and Mitsubishi 1.9%.
Toyota on the other hand stepped on the gas just a little bit for a nice 4.3% gain.
And now the necessary caveat:
The race for World's Largest Automaker is not decided by sales, but by production, and this analysis attempts to track production, not sales, because this is how the world automaker umbrella organization OICA ranks automakers.
Due to the different methodologies of their measurement, "sales" numbers have proven to be unreliable, and prone to 'sales reporting abuses," as recent scandals in the U.S., along with rampant "self-registrations" in the EU have shown.
At the same time, data reported by automakers are becoming increasingly hard to compare.
Toyota reports production and sales. Volkswagen reports "deliveries" to wholesale – which can be cars dumped on dealer lots, or actual sales to customers. The Alliance numbers used to be a blend of production data reported by Nissan and Mitsubishi, and deliveries reported by Renault. As of September 2018, Renault started to report sales only, forcing us to use those