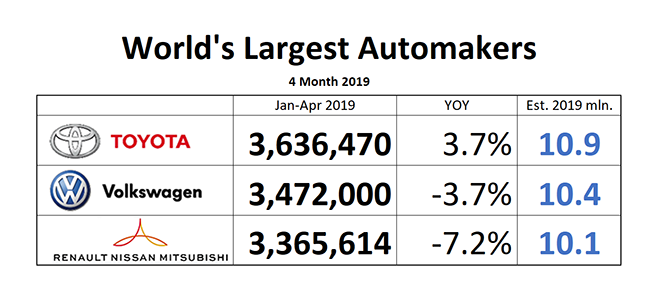 Last year's race for World's Largest Automaker was suspenseful through the (somewhat dubious) end. This year, it could become an easy and early call, for the simple reason that two of the front-runners are losing speed, and only one of them accelerates.
Four months into the year, Toyota again leads the pack with 3.6 million units produced so far, up nearly 4% from the same YTD-period last year. More than 160K units behind follows the Volkswagen Group, and it is down nearly 4%. The Renault-Nissan-Mitsubishi Alliance is in third place, and its 7% drop looks downright worrisome.
Like everybody, Toyota suffers from a souring market in both Americas, but it could make it up with a surprising 10% gain in an also not expanding China, along with a good showing in the EU, and at home in Japan.
Volkswagen Group YTD deliveries so far were flat in EU, down in NA, down in SA, down in Asia. In Volkswagen's by far largest single-country market China, YTD group deliveries were down a whopping 7.1%.
Looking at data delivered by companies of the Renault-Nissan-Mitsubishi Alliance, one can't help doubting the wisdom of provoking one of the biggest leadership crises in the industry when deliveries deteriorate across the board. Some may even speculate that the crisis was ignited to distract from that. Last year, Nissan was down around 5%, while Renault and Mitsubishi made up for Nissan's blood-letting. Now, we are looking at an Alliance-wide hemorrhage: Four months into 2019, Nissan is down 9%, and it is joined in its misery by a Renault down 6.3%, and a Mitsubishi down 2.2%. Should, on the other hand, the discussed mega-merger with FCA become reality, the result would be a colossus towering over the rest of the industry by the millions.
Ever since the "Lehman shock" a.k.a. "carmageddon" of 2008/2009, Toyota has judiciously prepared for another one by going extremely easy on building new capacity while optimizing existing one. The company has developed industry-leading flexible production systems that can adapt, literally over the weekend, to the ebbs and flows of demand. 10 years after carmageddon, the Toyota's slim-fit diet is the reason for the company's health, just when there are signs that we may be heading into another cyclical downturn. Four months into the new year, global total industry volume is down 6.6%, with minus signs in front of all regions, even former powerhouse Asia is slowing down. It is this adverse environment that brings out the true masters of this business.
And now the necessary caveat:
The race for World's Largest Automaker is not decided by sales, but by production, and this analysis attempts to track production, not sales, because this is how the world automaker umbrella organization OICA ranks automakers.
Due to the different methodologies of their measurement, "sales" numbers have proven to be unreliable, and prone to 'sales reporting abuses," as recent scandals in the U.S., along with rampant "self-registrations" in the EU have shown.
At the same time, data reported by automakers are becoming increasingly hard to compare.
Toyota reports production and sales. Volkswagen reports "deliveries" to wholesale – which can be cars dumped on dealer lots, or actual sales to customers. The Alliance numbers used to be a blend of production data reported by Nissan and Mitsubishi, and deliveries reported by Renault. As of September 2018, Renault started to report sales only, forcing us to use those.