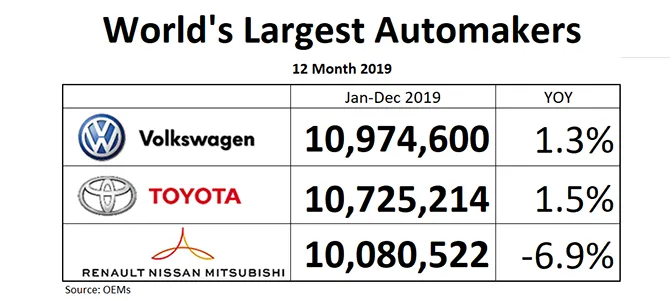 Volkswagen Group can rightly be called world's largest automaker, at least in the current year. Volkswagen closed out 2019 with nearly 11 million deliveries to its name, while 2nd placed Toyota Group produced some 10.7 million units. Far behind in 3rd place is the fraught Renault-Nissan-Mitsubishi Alliance, which barely pierced the 10 million mark.
Each adding more than one percent to their prior-year numbers, Volkswagen and Toyota beat the odds of a weakening global auto market – analysts say that 2019 global total industry volume was down around 4.5%. The Alliance was down a whopping 7%. It's a hard fall from when Carlos Ghosn was still in charge, and when the Alliance was on top of the world, for a few months at least.
For most of the year, Volkswagen had lingered in the #2 position, but the Germans became frisky in Q4. Two months ago, I alluded that Volkswagen might be taking the top spot. This was not driven as much by superior industrial might as it was caused by EU regulators. In the last quarter of the year, Volkswagen registered a strong uptick especially at home in Europe. In December alone, Volkswagen's Western European deliveries shot up nearly 15%. This was mostly due to a weak base in the last quarter of 2018, where many cars could not be shipped because they did not comply with new EU regulations. It also reflects a strong urge of EU OEMs to pack as many ICE registrations into 2019, before they disturb the new and costly fleet averages coming into effect this year. Prepare yourself for battery-afficionados announcing the death of the ICE as pulled-forward ICE sales will plummet in the coming months in Europe, while so far sandbagged BEV and PHV sales will increase – on paper, for a while.
What will the new year bring? Probably no changes on the podium, unless the Renault-Nissan-Mitsubishi Alliance officially falls apart. The FCA-PSA merger seems to result in less than 9 million annual deliveries. Hyundai, GM, and Ford are nowhere near the top.
Car counters also should closely monitor the official score-keeper, the global automaker umbrella organization OICA. OICA ranks automakers by production, and not by sales (see below) but at the time of this writing, the organization had yet to publish 2018 (!!!!) results, the last table was for 2017. Usually, the annual tables are published in the middle of the following year. When they are published months later, it is a sign of discourse over the published data. This time, the discourse appears to be massive. Should OICA stop to publish production rankings completely, the Dailykanban may adjust its scorekeeping accordingly.
Oh, and by our tally, Volkswagen's 2019 deliveries were nearly a quarter million ahead of Toyota's production numbers, and some 230,000 units ahead of Toyota's sales data, which makes  sales vs. production a moot point, least for this year.
And now the necessary caveats:
The race for World's Largest Automaker is not decided by sales, but by production, and this analysis attempts to track production, not sales, because this is how the world automaker umbrella organization OICA ranks automakers.
Due to the different methodologies of their measurement, "sales" numbers have proven to be unreliable, and are prone to 'sales reporting abuses," as recent scandals in the U.S., along with rampant "self-registrations" in the EU have shown. OICA doesn't rank automakers by sales for a reason, and if you ask for sales data, you'll hear a terse "the OICA secretariat does not have any further data."
At the same time, data reported by automakers are becoming increasingly hard to compare.
Toyota reports production and sales. Volkswagen reports "deliveries" to wholesale – which can be cars dumped on dealer lots, or actual sales to customers. The Alliance numbers used to be a blend of production data reported by Nissan and Mitsubishi, and deliveries reported by Renault. As of September 2018, Renault started to report sales only, forcing us to use those. Like so many things at the Alliance, its data are a mess.