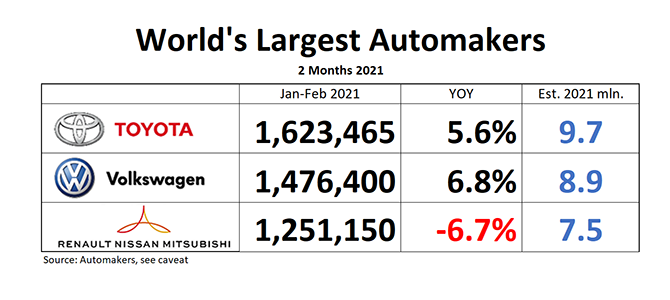 In the first two laps of World's Largest Automakers 2021, Toyota Group, backed by strong sales in China and at home in Japan, extended its lead over 2nd ranked Volkswagen.
January through February, Toyota was some 150,000 units ahead of Volkswagen. Both OEMs are up in the single digits compared to the same period a year ago. The Renault-Nissan-Mitsubishi Alliance continues marooned the reds, mostly because of Renault and Mitsubishi (both down around 15%) while Nissan (up 1.4%) shows feeble signs of life.
Performance of the two industry leaders reflects total global industry volume, which was up 7.8% in the first two months of the year, compared to Jan-Feb 2020. That sudden growth needs to be taken with a grain of salt.  When you see double- or sometimes triple-digit growth rates, be aware that they are comparisons with virus-ravaged sales 12 months ago. Rummaging through Volkswagen Group's February data, you will see a 272% jump in China, simply because China was for all intents and purposes closed in February 2020.
Despite the explosive rise of sales in VW's biggest single-country market, the Group's overall YTD sales were up "only" 6.8%, simply because they were dragged down by imploding sales elsewhere, such as Europe (-25%) which right now is suffering from a new wave of the virus.
General caveat:  Daily Kanban is now ranking global automakers by sales. We used to rank them by production. because this was how the global automaker umbrella association OICA has done in the past. OICA seems to have thrown-in the towel, and you no longer will find any automaker rankings on the previously authoritative OICA website, neither by production, nor by sales. Reliable production data are harder and harder to come by, forcing us to switch to sales/delivery data published by automakers. Be aware that "deliveries" can be a rather elastic term. Deliveries can be sales to end users, or cars dumped on dealer lots, or cars "delivered" to sales organizations, or combinations thereof.
Also, please note that Mitsubishi Motors does not publish global sales, only domestic sales in Japan. For that reason, we are forced to use Mitsubishi's published global production data as a proxy. Speaking of the Alliance, their number reporting is not allied at all, and a common picture requires considerable Excel machinations. Nissan and Mitsubishi report sales and production, Renault only reports deliveries. Mitsubishi does not report global sales, Nissan does. Mitsubishi and Renault report on a calendar year basis, Nissan insists on the new year starting on April 1.