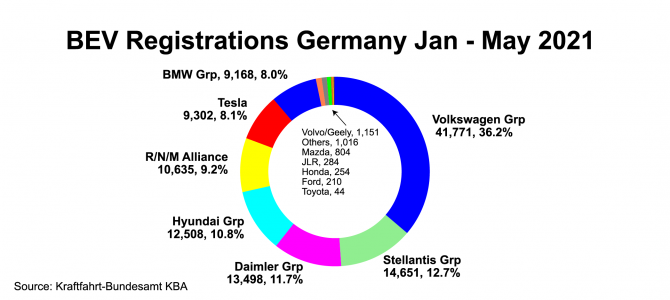 Volkswagen Group is steadily clawing ever-increasing shares of Germany's booming BEV market. Despite a maximum effort in May, presumptive disruptor Tesla is dwarfed by alleged dinosaurs who crank out BEVs in ever-increasing numbers.
Europe and China are the world's largest BEV markets. Germany is Europe's largest car market, and home to the largest concentration of OEMs. Germany, not Norway, will give us an indicator of how the battle between disruptor and disruptees will end.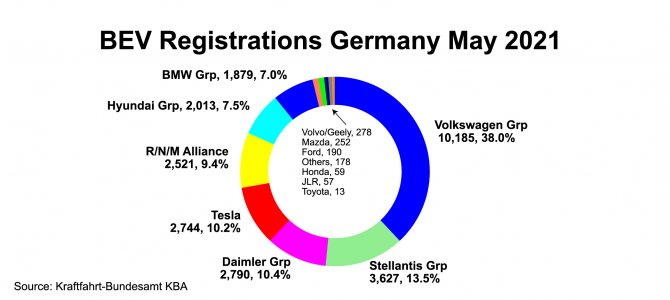 Germany's BEV market grew a whopping 380 percent in May. Nearly 12% of all passenger  vehicles registered in Germany in May were battery-powered. Plug-in hybrids are no slouch either. PHV registrations were up 303% in May, also for a share of nearly 12%.
Germany's BEV market is dominated by the same company that dominates its ICE sales -Volkswagen Group.  VW could grow its year-to-date share to 36.2%. Tesla usually tries to cram everything into the last month of the quarter, except this time, when the Californian carmaker put 2,744 units on Germany's roads. One third of Tesla's YTD Germany registrations happened in May. Despite the herculean endeavor, 92% of all BEVs registered in Germany so far this year were made by the legacy automakers Elon Musk promised to eat for lunch.
All data as per Germany's Kraftfahrt Bundesamt KBA, which is the country's official scorekeeper of automotive registrations.