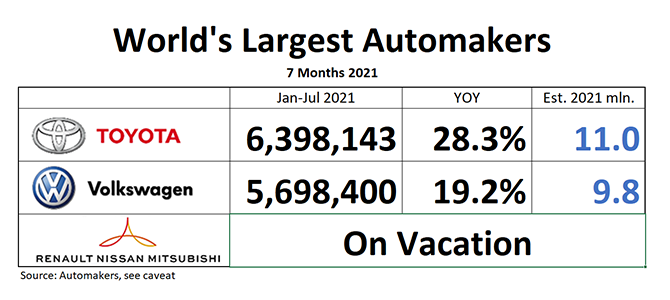 7 months into the year, Toyota leads Volkswagen by around 700,000 units, mainly because the Japanese automaker managed to get through the global chip-crisis mostly unharmed. This is about to end.
Toyota's strategic chip reserves are beginning to run low, and the company announced two weeks ago that it will cut global production by 40% in September. Volkswagen however also said that it may have to cut its production further. The silicon-shortage could last into 2022 and beyond, it could even get worse, Intel's CEO Pat Gelsinger said.
The Renault-Nissan-Mitsubishi Alliance once again is not on the leader board, simply because Renault hasn't published any data. France is closed for the month of August, and global automaker Renault is letting the world know. Nissan's January-July sales were up 16.6%, junior-partner Mitsubishi's  YTD output was up 20.3%.
Don't get excited by those double-digit 'growth' rates. We are comparing with a prior year when COVID caused car sales to collapse. This year's car sales would be even higher if enough cars would be available to sell.
And now for the usual disclaimer:  Daily Kanban is now ranking global automakers by sales. We used to rank them by production, because this was how the global automaker umbrella association OICA had done it in the past. OICA seems to have thrown-in the towel, and you no longer will find any recent automaker rankings on the previously authoritative OICA website, neither by production, nor by sales. Reliable production data are harder and harder to come by, forcing us to switch to sales/delivery data published by automakers. Be aware that "deliveries" can be a rather elastic term. Deliveries can be sales to end users, or cars dumped on dealer lots, or cars "delivered" to sales organizations, or combinations thereof.
Also, please note that Mitsubishi Motors does not publish global sales, only domestic sales in Japan. For that reason, we are forced to use Mitsubishi's published global production data as a proxy. Speaking of the Alliance, their number reporting is not allied at all, and a common picture requires considerable Excel machinations. Nissan and Mitsubishi report sales and production, Renault only reports deliveries (when it reports.) Mitsubishi does not report global sales, Nissan does.