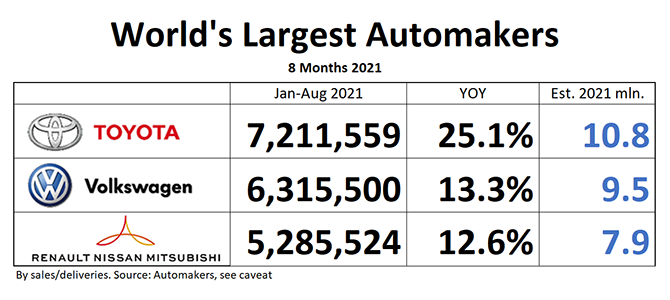 Unless the sky will fall before the end of the year, accompanied by a rain of toads, and the inauguration of Donald Trump, World's Largest Automaker 2021 should be Toyota. It's no a tough call: By the end of August, Toyota had sold nearly 900,000 units more than its Teutonic peer, and that kind of a lead is a bit hard to make go away in four months, especially considering the fact that the distance between the two has steadily grown over the past months.
In the #3 position, and more than a million units behind Volkswagen is the anemic Renault-Nissan-Mitsubishi Alliance. The Alliance is dragged down by lackluster sales of Renault (+7.8% YOY) whereas junior partner Mitsubishi Motors delivered a solid 24.3% in growth. Nissan added 13.4%. So you want to to have a revolution?  This is what you get.
All automakers are suffering from a parts shortage, Toyota not so much – so far. However, the chip crisis finally caught up with Toyota, to the extent that it had to cut production by 40% in September, and it will do so again in October. But then, so does Volkswagen. Toyota's 10.8 million end-of-year number probably will not be met, but it's my prediction, no theirs.
And now for the usual disclaimer:  Daily Kanban is now ranking global automakers by sales. We used to rank them by production, because this was how the global automaker umbrella association OICA had done it in the past. OICA seems to have thrown-in the towel, and you no longer will find any recent automaker rankings on the previously authoritative OICA website, neither by production, nor by sales. Reliable production data are harder and harder to come by, forcing us to switch to sales/delivery data published by automakers. Be aware that "deliveries" can be a rather elastic term. Deliveries can be sales to end users, or cars dumped on dealer lots, or cars "delivered" to sales organizations, or combinations thereof.
Also, please note that Mitsubishi Motors does not publish global sales, only domestic sales in Japan. For that reason, we are forced to use Mitsubishi's published global production data as a proxy. Speaking of the Alliance, their number reporting is not allied at all, and a common picture requires considerable Excel machinations. Nissan and Mitsubishi report sales and production, Renault only reports deliveries. Mitsubishi does not report global sales, Nissan does.