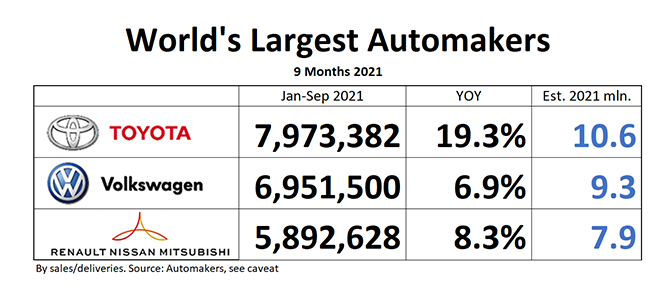 Scouring automotive news today, you may have read that Toyota's production "fell by more than a third in September," because the company is  "hurt by disrupted access to semiconductors and other key auto parts that's weighing on Japan's automakers."
What you did not read (until this moment) is that on the global leader board, Toyota is more than a million units ahead of second-placed Volkswagen, and that year-to-date, Toyota's worldwide sales are up 19.3%, compared to Volkswagen's 6.9%.  That simply because the supply chaos is weighing on all automakers around the world, not just the ones in Japan. In September, Volkswagen's global deliveries were down 32.3%, while Toyota's sales dropped 16.9%. (Toyota reports production and sales, Volkswagen only reports deliveries.)
Some people are prone to ignore auto sales other than battery-powered, and those should be impressed by Volkswagen. Year-to-date, the company more than doubled (+38.2%) its global BEV sales to nearly 300,000 units. Toyota more than tripled its BEV output – from a paltry 3,346 BEV in all of 2020 to 9,298 BEV sold worldwide Jan-Sept 2021.
The Renault-Nissan-Mitsubishi Alliance is found another million units further down the list, with Renault up 2.6%, Nissan up 8,7%, and Mitsubishi Motors up 24.5%. With all three contestants separated by a million units, it is safe to say that Toyota will be World's Largest Automaker 2021, followed by Volkswagen, and the Alliance.
And now for the usual disclaimer:  Daily Kanban is now ranking global automakers by sales. We used to rank them by production, because this was how the global automaker umbrella association OICA had done it in the past. OICA seems to have thrown-in the towel, and you no longer will find any recent automaker rankings on the previously authoritative OICA website, neither by production, nor by sales. Reliable production data are harder and harder to come by, forcing us to switch to sales/delivery data published by automakers. Be aware that "deliveries" can be a rather elastic term. Deliveries can be sales to end users, or cars dumped on dealer lots, or cars "delivered" to sales organizations, or combinations thereof.
Also, please note that Mitsubishi Motors does not publish global sales, only domestic sales in Japan. For that reason, we are forced to use Mitsubishi's published global production data as a proxy. Speaking of the Alliance, their number reporting is not allied at all, and a common picture requires considerable Excel machinations. Nissan and Mitsubishi report sales and production, Renault only reports deliveries. Mitsubishi does not report global sales, Nissan does.