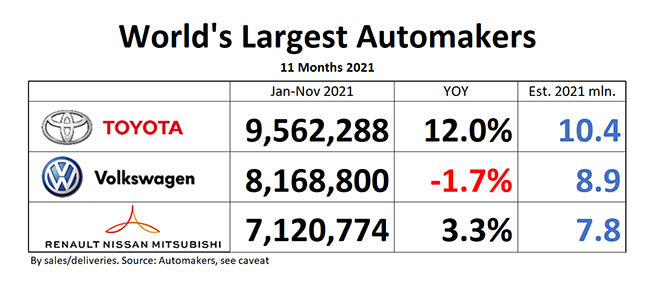 With a mighty year-end push, Toyota Group is making its German rival Volkswagen Group eating dust. With all but one month tallied, there is no doubt that Toyota will end the year as World's Largest Automaker 2021 – something we have predicted for months.
What we could not predict was the distance between the two contenders. Toyota now leads by nearly 1.4 million units over Volkswagen, and when everything will be tallied a month for now, Toyota might even be ahead of VW by a few cars more.
World's automakers have been pummeled by a shortage of parts, mostly of the electronic kind no modern car can't be sold without. Toyota has managed that shortage a bit better. Its November production exceeded that of November 2020 by 3%.  According to Toyota, its output from December onward is "expected to be at high levels."
With Toyota's YTD sales up 12%, it should effortlessly clear the 10 million unit threshold this year. Volkswagen on the other hand will need to factory-gate every available vehicle to come in slightly over 9 million units.
Volkswagen suffers the most in its biggest and most important market, China. Sales in China so far are down 11.6%, and with flat deliveries in Volkswagen's home market Europe, China is causing earthquakes throughout Volkswagen's organization.
The Renault-Nissan-Mitsubishi Alliance has managed to stop the hemorrhage. Its YTD worldwide sales are up 3.3%. Renault is down 3.2%, Nissan is up 3.3%. Stepchild Mitsubishi Motors is up an impressive 24.4%, but nobody seems to notice.  Instead, the world is fixated on Tesla – which has an output similar to that of Mitsubishi.
And now for the usual disclaimer:  Daily Kanban is now ranking global automakers by sales. We used to rank them by production, because this was how the global automaker umbrella association OICA had done it in the past. OICA seems to have thrown-in the towel, and you no longer will find any recent automaker rankings on the previously authoritative OICA website, neither by production, nor by sales. Reliable production data are harder and harder to come by, forcing us to switch to sales/delivery data published by automakers. Be aware that "deliveries" can be a rather elastic term. Deliveries can be sales to end users, or cars dumped on dealer lots, or cars "delivered" to sales organizations, or combinations thereof.
Also, please note that Mitsubishi Motors does not publish global sales, only domestic sales in Japan. For that reason, we are forced to use Mitsubishi's published global production data as a proxy. Speaking of the Alliance, their number reporting is not allied at all, and a common picture requires considerable Excel machinations. Nissan and Mitsubishi report sales and production, Renault only reports deliveries. Mitsubishi does not report global sales, Nissan does. To make the confusion complete, Nissan sometimes reports sales for the April-to-March fiscal year, and sometimes for the calendar year.