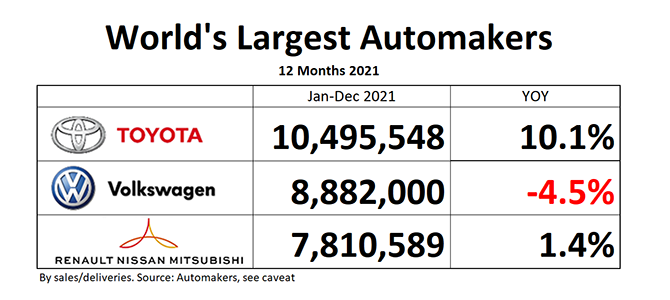 I have predicted for months that Toyota would end the year as World's Largest Automaker, and unsurprisingly, largest automaker in the world 2021 is Toyota. Watching TMC out-distancing 2nd ranked Volkswagen Group month after month, it was an easy call. Now, Toyota's leadership is official. Third on the list of global car sales by manufacturer is the Renault-Nissan-Mitsubishi Alliance.
In 2021, the race for world's largest car manufacturer wasn't determined by how many an automaker could sell, but by how many cars an automaker could produce. Suddenly, the whole industry was "production constrained" as COVID-related supply chain problems brought down assembly lines all over the world. OEMs were especially hard hit by a shortage of electronic parts. Toyota, usually a master of the just-in-time universe, seems to have managed the chip crisis best by keeping large stockpiles of silicon, a lesson it had learned after the 2011 tsunami wiped out a strategic fab of major chipmaker Renesas. Despite typhoon-sized headwinds, Toyota managed to grow its global sales by a whopping 10.1 percent over 2020 – which is the one and only true surprise in this story.
At Toyota's German peer Volkswagen, we are looking at a totally different picture. VW finished the year down 4.5% compared to an already low 2020. Its largest market China was down 14.1%. Its bread & butter Volkswagen passenger car brand was down 8.1%. The big shrinkage can't possibly all have been caused by COVID. Volkswagen made a big switch to BEVs last year, and Volkswagen has a tendency of forgetting to market the bulk of its portfolio when management attention suddenly is focused on something new and unfamiliar. Volkswagen Group can pride itself of having increased its BEV sales by 95.5% last year to 452,900 units, small consolation for the fact that overall Group sales were down 423,000 units.
While on the topic of BEVs, it should be noted that despite the global excitement over battery-powered cars taking over the world, the most automobiles in the world, with a 10% increase to boot, were sold by a Toyota that has been mercilessly bashed as a behind-the-curve BEV-sceptic, while incessant BEV-booster Volkswagen walks away with a black (actually red) eye. Probably just a coincidence. The future undoubtedly belongs to the electric car, but presently, (charitably) nine out of ten cars sold in the world do not run on batteries, and they need to be made and sold.
3rd ranked Renault-Nissan-Mitsubishi Alliance is a mere shadow of its former greatness.  In 2017, the Alliance very, very nearly missed being crowned World's Largest Automaker. A year later, Nissan decided to commit seppuku, and had its former savior and Chairman Carlos Ghosn arrested under the flimsiest of accusations. Just when global auto sales were beginning to peak, Nissan steered the Alliance into a steep downward spiral. In 2021, the Alliance recovered just a little bit, coming in with sales 1.4% higher than in a disastrous 2020. Of the three alleged allies, Nissan's sales were flat, Renault's deliveries were down 4.5%, while stepchild Mitsubishi Motors increased its sales by an impressive 22.8%.
And now for the usual disclaimer:  Daily Kanban ranks world's largest automakers by sales. We used to determine the largest automaker in the world by looking at production, because this was how the global automaker umbrella association OICA had done it in the past. OICA seems to have thrown-in the towel, and you no longer will find any recent auto manufacturer rankings on the previously authoritative OICA website, neither by production, nor by sales. Reliable production data are harder and harder to come by, forcing us to switch to sales/delivery data published by automakers. Be aware that "deliveries" can be a rather elastic term. Deliveries can be sales to end users, or cars dumped on dealer lots, or cars "delivered" to sales organizations, or combinations thereof.
Also, please note that Mitsubishi Motors does not publish global sales, only domestic sales in Japan. For that reason, we are forced to use Mitsubishi's published global production data as a proxy. Speaking of the Alliance, their number reporting is not allied at all, and a common picture requires considerable Excel machinations. Nissan and Mitsubishi report sales and production, Renault only reports deliveries. Mitsubishi does not report global sales, Nissan does. To make the confusion complete, Nissan sometimes reports sales for the April-to-March fiscal year, and sometimes for the calendar year.