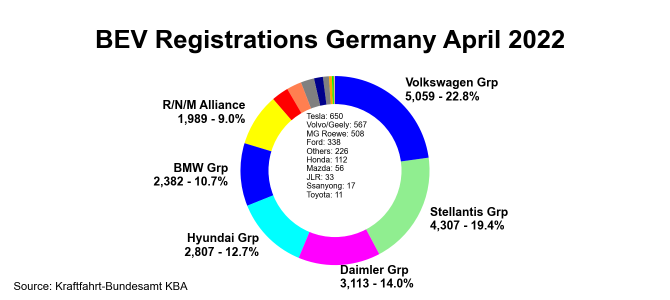 Why aren't we surprised anymore? A month after Tesla dethroned Volkswagen in terms of monthly German BEV registrations, the Californian carmaker has crashed into the also-rans on the BEV leaderboard. To be fair, Tesla came in at the top of the also-rans, besting powerhouses such as Volvo, or MG Roewe by some 100 cars. By now, car counters should be intimately familiar with Tesla's ups and downs: By the end of the quarter, everything that is halfway salable is pushed to customers (occasionally, with customers providing free labor) and a month thereafter, it's cold turkey-time.  Then, by the end of that quarter …
At 8,045 units, German March deliveries were high even by Tesla's yo-yoing standard.  Of course, April followed with a royal dud: Only 650 Teslas were registered in Germany in April, most likely reflecting the few that didn't get to their local Strassenverkehrsamt  (DMV) in time to register their bought-in-March Tesla.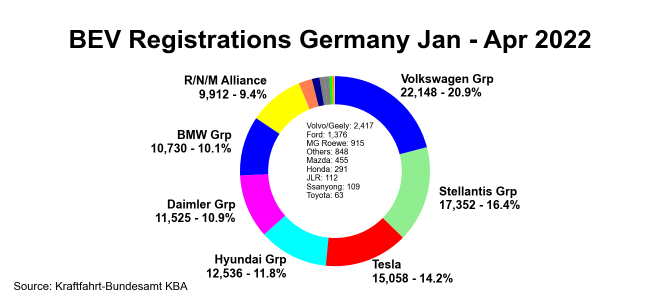 On a year-to-date basis, the picture looks less alarming: January through April, Tesla lands on the #3 spot of the German BEV leaderboard, mostly due to the fact that local champion Volkswagen has trouble producing its BEVs. Caused by a creaking supply chain, Volkswagen is "basically sold out" of BEVs for the year in EU and the U.S., its CEO Herbert Diess told reporters a few days ago.  Being production constrained was a good thing back at Tesla, at Volkswagen however …
If you peruse Dailykanban's monthly analysis of BEV sales (bottom of right column) in Europe's largest auto market, you will see that Tesla is the only large OEM with such wild swings. Tesla's fans like to point to the fact that the cars are brought by boat. A large car carrier can take some 8,500 units in one big gulp, and 58,614 Teslas were registered in the EU in Q1. Wouldn't it stand to reason to space out the docking of boats and selling of Teslas over the full quarter instead of cramming it all into the last month? A steady stream would mean less strain on the sales and service organization, and it would provide better returns to the stockholder.