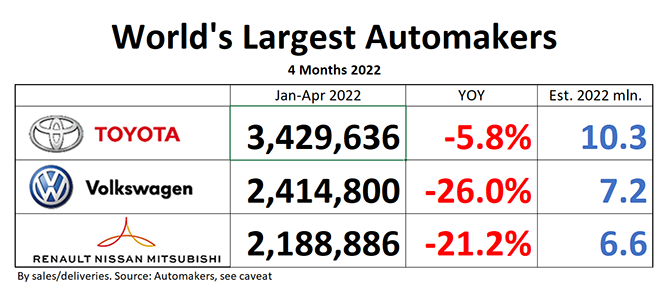 Pending an absence of falling skies, Dailykanban declares Toyota Group World's Largest Automaker 2022. Yes, 2022. In the past, our predictions usually were pretty solid, but never did we dare to call a winner with only four months on the books. The distance between #1 Toyota Group and #2 Volkswagen Group simply is (for Volkswagen) too depressingly large, and the gap keeps on growing. Now here is the strange part: According to published media, battery electric vehicles are the key to hyper-growth in the auto industry. Yet, according to statistics on hand, a bet on BEVs does not appear to guarantee success.  Toyota is (unfairly) branded as a battery-skeptic, yet it leads the market, supply chain problems and Chinese lockdowns be damned.  Volkswagen bets the bank on BEVs, its CEO Diess wants to beat Tesla by 2025, but deliveries crater. Sure, BEVS (or HEVS) may have replaced the ICE in a few decades, but an OEM needs to remain alive before we get there. Toyota hasn't lost sight of that simple fact. Volkswagen seemingly has.
To understand how badly Volkswagen is doing, let's note that total global industry volume was down 11% in April, and 7% for the first four months of the year.  Toyota outperformed the market with year-to-date sales down 5.8%, and April sales down 10.4%. Volkswagen Group, however, is down 26% for the year, and a very hard 37.8% in the month of April. If Volkswagen maintains its current trajectory, it could end the year with some 7 million units delivered, a far cry from the >10 million of years gone by.  Meanwhile, Toyota plans for close to 10 million units for the current fiscal ending in March 2023, and its current trajectory leads into that direction.  Declaring Toyota Group World's Largest Automaker 2022 is a safe bet.
Volkswagen, what's the holdup?
A week ago, a scathing article appeared in Germany's Manager Magazin, outlining the troubles of Volkswagen's software-subsidiary Cariad. The article makes heavy use of a leaked  McKinsey study, "a journal of failure," as Manager Magazin writes.  The study is locked away. Volkswagen's Supervisory Board hasn't seen it, but Manager Magazin has, always a sign of severe dissent at the top.
Cariad is only one of Volkswagen's troubles. Asked why Volkswagen Group is on its knees while peer Toyota can weather the storm relatively unscathed, a Volkswagen executive who shall remain nameless told the Dailykanban:
"OFFICIALLY, it's because of COVID, lockdowns, week-long production stops, chip availability, war in Ukraine and hence no cable harnesses."
My contact took a deep breath, and then he blurted out:
"UNOFFICIALLY, our id BEVs don't appeal, too expensive, perceived value of the interior too low, utterly dissatisfactory connectivity and mobility offers. Our internal combustion cars rapidly lose share, we underperform in a bad market, too many near-identical SUVs confuse the customer, little product news, bad planning."
China is Volkswagen's biggest market, bigger than Volkswagen's home market Western Europe, and it also is one of its biggest wounds. In the first four months of the year, Volkswagen's China-volume shrank by nearly one third. In comparison, Toyota's Jan-April China sales were down only 1.2%. Four years ago, Volkswagen's CEO Herbert Diess was given responsibility for China. At that time, Volkswagen's China-share stood at 18.5%. By the end of 2021, Volkswagen's share of the Chinese market had dropped to 16%.  The man who presided over the shrinkage, Stephan Wöllenstein, Diess's man in China, is on the last leg of his tour in Beijing, and nobody knows where in VW's vast empire he will end up. He and his HR chief Jens Pfitzinger are the topic of after-work innuendo at watering holes near Volkswagen's futuristic V-Space HQ in Beijing. The talk is that both might be involved in dalliances with indigenous personnel that received surprisingly rapid promotions. With that kind of juicy gossip, no wonder little work is done.
Wöllenstein will be replaced by Ralf Brandstätter, who comes with high hopes, but not by my source in Wolfsburg, who said:
"Brandstätter can't find China on a map."
Ouch.
And now for the usual disclaimer:  Daily Kanban ranks world's largest automakers by sales. We used to determine the largest automaker in the world by looking at production, because this was how the global automaker umbrella association OICA had done it in the past. OICA seems to have thrown-in the towel, and you no longer will find any recent auto manufacturer rankings on the previously authoritative OICA website, neither by production, nor by sales. Reliable production data are harder and harder to come by, forcing us to switch to sales/delivery data published by automakers. Be aware that "deliveries" can be a rather elastic term. Deliveries can be sales to end users, or cars dumped on dealer lots, or cars "delivered" to sales organizations, or combinations thereof.
Also, please note that Mitsubishi Motors does not publish global sales, only domestic sales in Japan. For that reason, we are forced to use Mitsubishi's published global production data as a proxy. Speaking of the Alliance, their number reporting is not allied at all, and a common picture requires considerable Excel machinations. Nissan and Mitsubishi report sales and production, Renault only reports deliveries. Mitsubishi does not report global sales, Nissan does. To make the confusion complete, Nissan sometimes reports sales for the April-to-March fiscal year, and sometimes for the calendar year.