__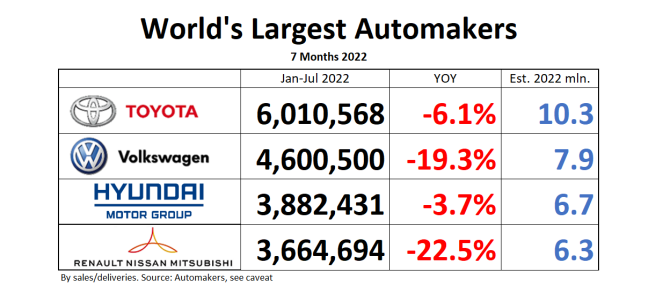 Tesla and Uber failed to disrupt the automotive business, but a nasty little virus sure did. It led to plant closures, shortages, supply-chain turbulences, and with a few natural disasters and a shooting war in Europe thrown in, things could hardly get nastier (don't bank on it, they can.)  As of July 2022, the year-to-date global total industry volume was 7.5% below the TIV of the prior year. Times of adversity bring out the well-run companies, and those definitely are Toyota Group and Hyundai Group.
At the top of the leaderboard, Toyota Group already is 1.4 million units ahead of second-ranked Volkswagen Group. Toyota's global sales are down only 6.1%, that's above TIV, and a sign of gaining market share. Volkswagen on the other hand is down 19.3%.  One of the top Google searches landing on these pages is "Toyota going bust," and they will be disappointed.  All things considered, Toyota is doing fine, and you can disregard some of today's headlines to the contrary.
Ever so cautious Toyota didn't buy into the EV hype, Volkswagen sure did. Results so far: see above.  Volkswagen's CEO Herbert Diess, a big fan of Elon Musk, had to go and was replaced by Oliver Blume, CEO of Porsche, the part of the Volkswagen empire where your blood gets replaced by gasoline when you sign on. New CEOs tend to shake up boards and ranks below, consultants will be making re-org plans. Volkswagen will be busy with itself for a while.
A tier down on the leaderboard, Hyundai Group has established a solid #3 position, and it probably has its eyes on Volkswagen. Don't laugh, the distance between Hyundai and Volkswagen in terms of YTD unit sales is only half of what separates Volkswagen from Toyota.
Down 22.5%, the alleged Renault-Nissan-Mitsubishi Alliance is but a shadow of its former glory. Of the three, Renault, down 29%, is the biggest loser, followed by Nissan, down 22.6%. Scrappy Mitsubishi Motors is holding its own with its YTD output only 3.6% below the same period last year, but they won't get any credit for it as usual.
Surprisingly, Renault decided to break with age-old traditions, and published sales and production data in August, never mind that all of France is on vacation. In previous years, Renault's car-counting dept. closed down in August, which led to the non-publication of Alliance data for the month of July. Looking at the current results, maybe they should have maintained the ancient custom.
And now for the usual disclaimer:  Daily Kanban ranks world's largest automakers by sales, as reported by the automaker. We used to determine the largest automaker in the world by looking at production, because this was how the global automaker umbrella association OICA had done it in the past. OICA seems to have thrown-in the towel, and you no longer will find any recent auto manufacturer rankings on the previously authoritative OICA website, neither by production, nor by sales. Reliable production data are harder and harder to come by, forcing us to switch to sales/delivery data published by automakers. Be aware that "deliveries" can be a rather elastic term. Deliveries can be sales to end users, or cars dumped on dealer lots, or cars "delivered" to sales organizations, or combinations thereof.
Also, please note that Mitsubishi Motors does not publish global sales, only domestic sales in Japan. For that reason, we are forced to use Mitsubishi's published global production data as a proxy. Speaking of the Alliance, their number reporting is not allied at all, and a common picture requires considerable Excel machinations. Nissan and Mitsubishi report sales and production, Renault only reports deliveries. Mitsubishi does not report global sales, Nissan does. To make the confusion complete, Nissan sometimes reports sales for the April-to-March fiscal year, and sometimes for the calendar year.