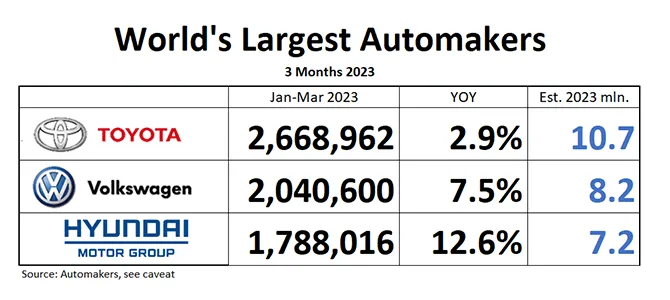 Finally: All three on the World's Largest Automakers podium are reporting growth for the first quarter of 2023, signaling a possible end of the global chip shortage that dragged the industry down for the last two years.  Top-ranked Toyota Group is up 2.9% YOY.  March 31 also was the last day of Toyota's April-March fiscal year, and the Toyota brand can be proud of having beaten its own 9.1 million unit target for the fiscal.
2nd ranked Volkswagen finally got a grip on itself, reporting 7.5% growth in the first three months, due a herculean 23.9% growth in March.
The OEM to watch remains the Hyundai Group, up a strong 12.6% in the quarter. In March, Hyundai was up a mouth-dropping 40% at home in Korea, and up 21.3% around the world. In the same month, Kia was up a more sedate 10.9%.
And now for the usual disclaimer:  Daily Kanban ranks world's largest automakers by sales, as reported by the automaker. We used to determine the largest automaker in the world by looking at production, because this was how the global automaker umbrella association OICA had done it in the past. OICA seems to have thrown-in the towel, and you no longer will find any recent auto manufacturer rankings on the previously authoritative OICA website, neither by production, nor by sales. Reliable production data are harder and harder to come by, forcing us to switch to sales/delivery data published by automakers. Be aware that "deliveries" can be a rather elastic term. Deliveries can be sales to end users, or cars dumped on dealer lots, or cars "delivered" to sales organizations, or combinations thereof. Mitsubishi Motors does not disclose global sales, global production is used as a proxy.