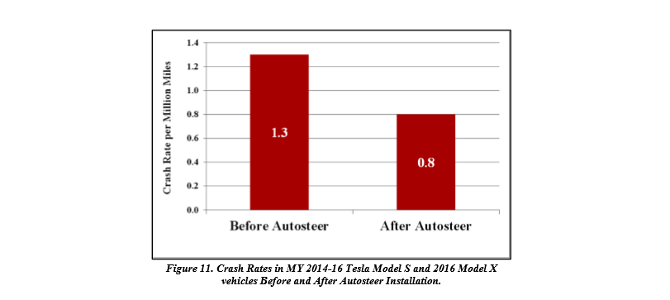 Tesla's high-flying image, which had been moving from strength to strength since early 2013, hit its biggest speed bump last year when its Autopilot semi-autonomous/Advanced Driver Assist System (ADAS) came under scrutiny in the wake of Joshua Brown's death. Suddenly Tesla's pioneering Autopilot system went from being one of the company's key strengths to being a serious liability that raised troubling questions about the company's safety culture. Tesla CEO Elon Musk tried to swat away these concerns with what proved to be a set of highly misleading statistics about Autopilot safety, but the issue was not laid to rest until NHTSA closed its investigation with a report that seemed to exonerate Autopilot as a safety risk. With a single sentence, NHTSA shut down the most dangerous PR problem in Tesla's history:
The data show that the Tesla vehicles crash rate dropped by almost 40 percent after Autosteer installation.
Because NHTSA is the federal authority on automotive safety, with unparalleled resources to assess and investigate safety risks, this single sentence effectively shut down public concerns about Autopilot's safety. In a terse statement on its company blog, Tesla noted
we appreciate the thoroughness of NHTSA's report and its conclusion
But how thorough was NHTSA's investigation, and how accurate was its conclusion? As it turns out, the questions around Autopilot's safety may not be as settled as Tesla and NHTSA would have you believe.