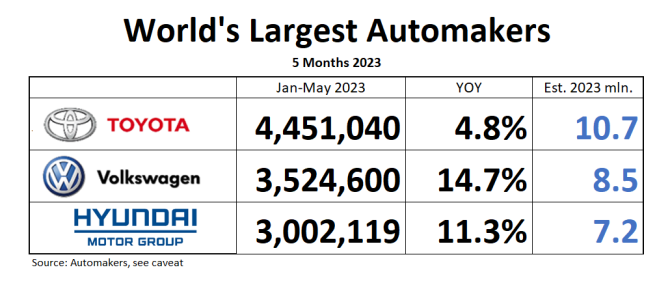 Five months into the year,  the ranking of world's largest automakers remains unchanged. However, one look at the leaderboard reveals an interesting situation:  Toyota Group, the undisputed and perennial leader, is looking a bit out of breath, while 2nd-placed Volkswagen Group is up strongly. Hyundai Group, 3rd on the podium, continues its steady growth.
Toyota's May group sales were up 10.7 percent when compared to May of the previous year. Toyota's truck arm, reeling from the emissions scandal, was down 15.9 percent in May. Toyota's minivehicle brand Daihatsu saw itself at the center of various safety test scandals, but could nonetheless increase its Mayl sales to the tune of 28.3 percent. Strangely enough, scandals often do not influence sales a lot.
Volkswagen Group appears to have found the chips that held back its production during the pandemic. Its May sales were strong across the board, except for its underwhelming BEV sales, which Volkswagen wisely is no longer breaking out individually.
Toyota is 926,000 units ahead of Volkswagen, and Volkswagen is 522,000 units ahead of Hyundai Group. Despite Toyota's sudden respiratory problems, there is little chance of an imminent change in ranking.
And now for the usual disclaimer:  Daily Kanban ranks world's largest automakers by sales, as reported by the automaker. We used to determine the largest automaker in the world by looking at production, because this was how the global automaker umbrella association OICA had done it in the past. OICA seems to have thrown-in the towel, and you no longer will find any recent auto manufacturer rankings on the previously authoritative OICA website, neither by production, nor by sales. Reliable production data are harder and harder to come by, forcing us to switch to sales/delivery data published by automakers. Be aware that "deliveries" can be a rather elastic term. Deliveries can be sales to end users, or cars dumped on dealer lots, or cars "delivered" to sales organizations, or combinations thereof.
Note: Due to a data mix-up, the Toyota May paragraph had to be rewritten.